A leap of faith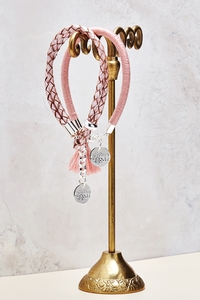 Tell me a bit about how the label was started.
A Gift From The Gods was the UK's first all-girl DJ club tour born out of the '90s dance music scene at the height of the original girl-power phenomenon. The tour attracted a sponsorship deal from a major toiletries company followed by press, radio and TV appearances. Branded tour t-shirts were created and proved so popular this then attracted a toiletries licensing offer. This licensing offer was rejected because it was opportunistic but the potential for an exciting new brand had been kindled. From raving to retailing – a brand was born.

What was the aim of the label when it was first established?
To retain that essence of girls having and sharing fun in a positive way and express it through fashion. The aim was and still is to develop a range of products that relates to the individual and is an expression of them.

How were the initial products developed, and what was the response?
The first range was developed from stock items with slogan designs printed on. They were sold on a sale or return basis to independent boutiques. The response was a sell-out, which led to repeat orders on a bought basis. We then started exhibiting at trade shows and built a thriving wholesale account business.

What challenges were overcome when the company was starting out?
With a shrinking supply base in the UK at the time, hunting down full-service manufacturers and convincing, blagging and begging them to work with us eventually paid off. As a growing business, we've tackled the cost/quantity issue with a solid, varied supply base so we can meet all our production requirements. Producing in the UK, Turkey and China offered a structured mix of product, cost and lead times enabling us to manage sales and distribution efficiently across the buying calendar.

What sets you apart from your competitors?
We have a very strong business proposition with huge product, branding and marketing potential. We understand which products the customer wants from us and that they like to see the label and its designs represented in a way that reflects how they feel about themselves. We create stylish, relevant design stories that interpret current trends and represent our brand values of warmth, fun, character and empowerment. Our positive slogans and playful prints translate well onto a varied product portfolio that includes sleepwear, jewellery, stationery and gifts. This presents multiple merchandising and upselling opportunities for retailers. Our multi-channel approach gives us detailed insight into the end consumer and what they want to pay for our products, so keen price points facilitate excellent sell-through.

How important is the location and history of the company to its success?
The brand's cultural heritage is organic and original. The positive atmosphere and qualities of dynamism, aspiration, friendship and enjoyment that formed the bedrock of the brand in the culturally important '90s clubbing heyday are still key to its continued success today. We've also taken that spirit of female empowerment and kept it at the heart of the brand's DNA.

How has the product offering changed over the years and how would you describe your current collection?
We grew from printed stock t-shirts to clothing collections and accessories. Handbags were a good choice at the height of the 'it' handbag craze and the branding works perfectly on jewellery, especially for gift purchases. The customer loves the company's name, our branding and design stories so we have focused on the products that showcase those attributes to the best effect. Adapting and refining our product offer, we've refocused our portfolio to encapsulate jewellery, stationery, accessories and sleepwear. Our current collection is a set of four distinct yet complementary design stories featuring a mix of positive, affirmative slogans that capture the zeitgeist, stylish graphics and accompanying symbols that create a fun design that carries the brand's values and handwriting. The different aspects and details of each design story are represented in various ways across each product range so that they sit together as corresponding design stories and also merchandise across product categories. This makes them easy to upsell, especially as gift purchases.

How often do you launch new lines?
We work to create four new product launches across the year, with an emphasis on ranges that complement the seasons and capitalise on key gifting periods. For seasonal launches such as Christmas, we really focus on products that can be bought as stocking fillers, as well as gift-wrapped sleepwear ready to be given as a present. This summer, we have our new jewellery collection, made of dainty, on-trend stacking bracelets perfect for layering up at festivals or for the beach. It's available in three colours, which have been designed so they can be merchandised alongside other products in our four design stories.

What are the current bestselling designs? Tell me about your recent campaigns.
Customers are loving the new design stories in a brush-stroke calligraphy font with playful slogans Dream Odyssey and Get Your Goddess On. Pink is always a bestseller for us too. Our current marketing campaign is a three pronged, holistic approach with a mix of advertising, press releases and social media. This has proved successful with heightened brand awareness at trade shows in the form of positive feedback from buyers and bloggers.

Which trade shows do you attend and which one works best for you?
We've identified the trade shows that best reflect our brand positioning and exhibiting at a selected mix presents opportunities to reach a targeted, yet broader audience. Top Drawer has always been our best show so will be a staple in our trade-show schedule and we are looking forward to exhibiting at Home & Gift for the first time in July. Our first participation at The Stationery Show in London last month was an overwhelming success so will be added to our 2018 calendar.

When was the website launched and how does it support the business?
We operate a multi-channel web strategy that includes ASOS Marketplace, Silkfred and Amazon. This supports the business in terms of brand awareness and mixed margins. It's a necessary part of the toolbox and feeds through to promote all aspects of the business including wholesale as the end consumer researches and shops across digital and retail, wherever they happen to be. This year we are scaling up and recruiting and building an in-house web team to relaunch our own website and drive social media, which will provide more support for the wholesale side of the business.

What have been the key milestones in the business?
Recognising the potential for a brand and having the courage to pursue it in 2000, developing products, exhibiting at trade shows and growing a wholesale account base have all been defining moments for us. Being invited to open a shop at Canary Wharf in 2006 and securing a 12-store concession roll-out for Arcadia's Outfit fascia in 2010 were milestones too. However, I think the ultimate landmark has surviving the double-dip recession and returning to wholesale in 2016 with renewed energy, vigour, purpose – and, a little wisdom.

How do you view the current market and what trends, both in product and in business, do you see emerging over the coming months?
A growing symbiotic relationship between analogue and digital. People, especially young people who have grown up digitally, are discovering and embracing analogue products – vinyl, stationery, books. These products are tactile and enriching on an emotional level. Hand in hand with that, a resurgence of retail as an experience, emotionally and socially. The war of attrition between retail and digital will level out and become symbiotic.

What are your future plans for the business?
I joined in January of this year to head up the wholesale side of the business, identifying and expanding our trade-show schedule. In addition, I'm overviewing product development to ensure our design and product offer is balanced and coherent. I'm also building relationships with buyers so they have a dedicated point of contact to manage their buying and supply needs. A key part of the wholesale growth strategy is to consider distribution and licensing options for some of our current and undeveloped product categories. The brand's long term ambition is a return to bricks and mortar retail via a concession model and, eventually, stand-alone retail – we aim high.
Date Posted: 27 July 2017