Articles
In the pink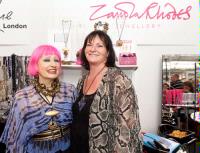 Why do you think that your design and aesthetic has had such a lasting appeal?
I think that my dresses and textiles give women a confidence that they don't necessarily feel that they have at the start. The individuality of the pieces and the colours make them feel a bit braver, perhaps. Ladies that I've spoken to always say that their outfit was received well, and that they felt wonderful in the dress. When you're going to a big event, you want to wear something that will boost your personality, make you feel good - something that you can throw on without worrying about the fit or hang. Especially now, with your image being caught on camera everywhere, from CCTV screens to paparazzi shots, it's nice to look good even when you've been caught unaware!

Which celebrities would you like to see in your dresses, and who have been favourites to dress?
I want to dress anyone who feels comfortable and looks wonderful in my clothes, it can be women of all ages, from Helen Mirren and Bianca Jagger to Paris Hilton and Kelly Osborne. A highlight was designing for Princess Diana, and I think that Princess Michael of Kent always look fabulous in the pieces she wears.

Are there any designers - new or established - that excite you?
I'm always interested in new designers. There are so many that are showing truly innovative pieces at Graduate Fashion Week, as well London Fashion Week that I can't think of a particular one! A designer that I always, always watch out for is Jean Paul Gaultier, as each season he comes up with something totally original and unexpected.

Do you feel that the advances in digital print technology will have a negative effect on the tradition of textile printing?
I think that a large component of the textile legacy has already been lost - computers are changing print design completely. At Graduate Fashion Week, you can really see the increase in digital print. This isn't wholly negative, as some are really inspired. However, I find a lot of them to be quite gimmicky. I feel that textile print and design doesn't get the recognition that it warrants. The textile craftsmen are always hidden, even if their skills were what made the garment come alive. This is why I founded the Fashion and Textile Museum in Bermondsey.

How does this collaborative collection with Adele Marie reflect your personal style and design history?
It has a lot of the print details that I've become known for - the squiggles and wiggles. We remade a Bakelite face from a collection I brought out in 1976, and it stills works today. There are some pieces that are just timeless, despite being evocative of a certain era. I love the big egg beads layered up, and the medallion shaped pendants. The inspiration for this collection came from taking a look at the past and reinventing shapes and forms in unexpected ways. Big themes include hearts, heritage, charm bracelets and the initial `Z'. With signatures on the back of everything, the pieces are impossible to replicate.

How did the collection come about?
I made an appearance at Top Drawer and a friend mentioned that she liked my designs and was interested in the possibility of working with me on a collection that incorporated elements of my past designs. I love working with companies like Adele Marie, as I knew that the execution would be flawless.

What is so special about jewellery for you?
It's such a confidence booster, if you feel uncomfortable, you can play with it. Jewellery is the ultimate feel-good factor and as you can probably tell, for me, more is most definitely more! I love to layer it up for maximum impact. When I go through customs at the airport, I'm there for ages. Never compromise for travel, that's another one of my mottos.

Who is the ideal Zandra Rhodes for Adele Marie customer?
I feel that our ideal customer base is multi-generational. I want to appeal to all ages, from people like me to their grandchildren. I feel that fashion is like music - if you put something valid out into the creative world, people will respond to it regardless of what category it's supposed to fit into. After all, consumers are much more adventurous these days and younger-looking - everyone's saying that 60 is the new 40 - so you really can't put an age on your customer any more.
Date Posted: