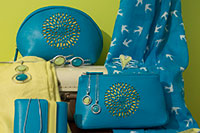 Win products worth £500 RRP courtesy of Miss Milly
Miss Milly is a young and growing British company with an ethos of providing great quality jewellery and accessories that offer mass appeal and excellent margin potential.

Creating a strong brand identity has been at the forefront of the company's growth since the business was launched five years ago and this has yielded results with an excellent level of loyalty from both retailers and consumers alike.

The standout element of Miss Milly's products is the creative use of colour. Palettes and trends for future seasons are studied intently along with a keen eye cast over the big catwalk shows. With a customer base including clothing boutiques, department stores and visitor attractions alongside the traditional gift shops, it is essential that the products attract consumers wanting to buy for themselves as well as for gifting, and that the jewellery and scarves can be profitable add-on sales for fashion retailers.

Time and again, the feedback at trade shows from new and existing customers is that it's great to see 'something different'. With exciting colour combinations and bold yet wearable designs, the Miss Milly collections are certainly very individual. And with the ranges refreshed twice a year, either through the launch of brand new designs or the introduction of different colourways, there is always something new on offer. The flagship Floria Collection consistently flies off the shelves and the arrival of new designs is always eagerly awaited. It is a colourful ensemble of bold designs in resin, paint and enamel from simple to more involved styles and ranges from delicate to statement in appearance. The resin pieces in particular have a collectable element to them and necklaces, earrings, rings and bracelets can be co-ordinated.

0In addition to the jewellery, Miss Milly has a select range of scarves made with viscose and cotton/viscose mixes that was introduced a couple of years ago in response to customer demand. Other accessories are also introduced to mix-up the offering, from beauty bags and purses to multipack socks and keyring bag charms. Three different styles of packaging are offered to suit all budgets. It is charged separately and you only pay for what you need. So if you already have your own store packaging there is no unnecessary environmental wastage and no paying the price for 'free packaging' that is usually charged in with the products.

If you win, you will be celebrating with £500 RRP of jewellery and scarves for your business, with the pieces you receive sitting together to create a cohesive, colourful and appealing display. Visit missmilly.co.uk for more information. Orders can be placed online, over the phone or via sales agents who cover approximately half of the UK.
For your chance to win, simply answer the following question and complete the form below before 20 June 2018