Trade suppliers' directory
The Laboratory at the Birmingham Assay Office
PO Box 151, Newhall Street, Birmingham, West Midlands B3 1SB UK
Telephone: 0121 236 6951
Fax: 0121 236 3228
Email: testing@theassayoffice.co.uk
Company Profile:
Quick Nickel Testing - Fast Accurate & Cost Effective.

The quick nickel test is unique to the laboratory at the Birmingham Assay Office.

* Low-cost test for nickel compliance

The services available from The Laboratory at The Birmingham Assay Office include a wide range of tests applicable to precious and base metals not only in the Jewellery industry but to others sectors such as packaging, pharmaceutical and automotive products.

Many tests have been developed directly in response to customer requirements and this innovative approach, backed by a huge amount of research, has resulted in a wide portfolio of UKAS accredited tests.
Contact Name: Mr Tim Smith
Product Categories:
Belts, Jewellery, Sunglasses/Glasses, Trade Services, Watches
---
Product Category: Belts
---
Product Category: Jewellery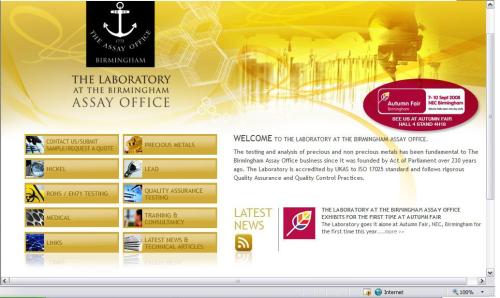 ---
Product Category: Sunglasses/Glasses
---
Product Category: Trade Services
---
Product Category: Watches
---