---
Atlanta Mocassin (View profile)
CE Lionesa, Edf C2, 4465-671 Leça do Balio, Matosinhos, Porto 4465-671 Portugal
Tel: 0035 1229 039 950
Email:
sales@atlantamocassin.com
Web:
www.atlantamocassin.com




Founded in 1987, Atlanta Mocassin became a specialist in moccasins for all the family.
Since the beginning, the Portuguese brand made sure that all the shoes are handmade through traditional craftsmanship. Leathers are carefully selected from the best tanneries of Portugal and Italy; raw materials are studied and chosen meticulously in search of perfection.
Every season, a collection is present with a wide variety of styles including the timeless moccasins, boat shoes, travel loafers and sneakers.
With a classic and modern design, provided with lightness and breathability, Atlanta Mocassin is the best choice for busy days and relaxing nights.
---
Caprice (View profile)
Caprice Studio Showroom, WARLIES Park House, Horseshoe Hill, Waltham Abbey, EN9 3SL
Tel: 07734 247669
Email:
capriceshoes@gmail.com
Web:
www.capriceshoes.co.uk


Fashion meets comfort with our international exclusive patents to Caprice. We use "on air" "superflex" and "antishokk" technology making Caprice different to any other footwear brand.
All shoes are made from soft, fine leather upper, leather lining and sock-No pu used.
---
Eastern Counties Leather (View profile)
Portobello Lane, Sawston, Cambridgeshire CB22 3FA
Tel: 01225 865317
Email:
sales@ecleather.co.uk
Web:
www.ecltrade.co.uk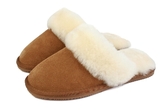 Eastern Counties Leather was founded in 1879, in the heart of Cambridge. They have more than a century of experience in the manufacturing of fine quality leather and sheepskin products. Their range consists of items for ladies, men and children including; coats, gloves and slippers.
More recently their range has expanded to include a successful small leather goods range with leather purses, bags and wallets. This range has proved incredibly popular and continues to develop every season.
To see more please contact us for a brochure.
---
Meenu Graziani (View profile)
Email:
meenu@meenugraziani.com
Web:
www.meenugraziani.com

LIMITED EDITION DESIGNER
SHOES & HANDBAGS
---
Pixie Footwear (View profile)
Tel: +44 (0)1509 229842
Email:
info@pixiefootwear.com
Web:
www.pixiefootwear.com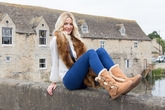 Pixie is a fast growing footwear brand based in the UK.
We specialise in fabulous boots at High Street prices that are both on trend and very comfortable. With superior quality materials, a range of on-trend colours and special attention to stitching and trims, Pixie offers a unique look.
We have stockists across the UK & Europe and are starting to expand globally. We supply department stores, multiples, footwear retailers, boutiques, online retailers & garden centres.
To enquire about becoming a Pixie stockist please email us at info@pixiefootwear.com - we would love to have you on board!