---
Eastern Counties Leather (View profile)
Portobello Lane, Sawston, Cambridgeshire CB22 3FA Wiltshire
Tel: 01225 865317
Email:
sales@ecleather.co.uk
Web:
www.ecltrade.co.uk
Eastern Counties Leather was founded in 1879, in the heart of Cambridge. They have more than a century of experience in the manufacturing of fine quality leather and sheepskin products. Their range consists of items for ladies, men and children including; coats, gloves and slippers.
More recently their range has expanded to include a successful small leather goods range with leather purses, bags and wallets. This range has proved incredibly popular and continues to develop every season.
To see more please contact us for a brochure.
---
Helen Moore (View profile)
Drayford Lane, Witheridge, Tiverton, Devon EX16 8TA
Tel: 01884 860900
Fax: 01884 860592
Email:
sales@helenmoore.com
Web:
www.helenmoore.com



The Lara Hat, Cashmere Beanies and Pillbox Hat
Made from soft wool fabric with a luxurious deep faux fur band, the Helen Moore Lara Hat is the perfect winter companion. Our cashmere beanies are super-soft and fun with a fur pompom and the iconic Pillbox hat is a Helen Moore Classic.
---
POM (View profile)
7 Dunkirk Business Park, Southwick, Wiltshire BA14 9NL UK
Tel: 01225 777749
Fax: 01225 775925
Email:
sales@pom925.com
Web:
www.pom925.com
Spring is always a time of great excitement, regeneration, new beginnings and fresh ideas. PoMs new 2018 collection promises to re-awaken all your senses with a celebration of colour, form and texture; laid back bohemian styles to clean sculptural geometrics. Re-connecting you with nature and a simpler timeless style through jewellery, scarves, gloves, bags and accessories; this beautifully designed and curated collection takes you on a journey that will be loved by you and your customers. And with branded packaging, great POS and outstanding customer service, PoM has everything you need to create a visually exciting and financially rewarding start to the year.
---
Samantha Holmes Alpaca (View profile)
Greenpark, Charlotte Street, Helensburgh, G84 7SE United Kingdom
Tel: 01436 676777
Email:
mail@samanthaholmes.com
Web:
www.samanthaholmes.com





Founded in 2003 in Scotland , the Samantha Holmes label is one of the longest established lifestyle alpaca brands in the UK.
Understated, versatile and timeless, our collection is ethically handcrafted in Peru using luxurious natural fibres.
Historically known as the 'Gold of the Incas', Alpaca fleece was once treasured by Inca Royalty. 500 years on, our signature yarn combines fine Alpaca with a small proportion of Bamboo fibre. This unique combination creates a strong, supple and lustrous yarn which can be worn by even the most sensitive of skins. Hypoallergenic and ecological, it drapes exquisitely, washes beautifully and has a distinct buttery softness. It improves with wear and does not pill or 'bobble' like other natural fibres can and due to the synergy of Alpaca with Bamboo, it is uniquely insulating in Winter, but also breathable and cool in Summer.
For our Fur Collection, we select only the finest Peruvian Huacaya and Suri Alpaca skins. The skins are tanned, matched and sewn with precision by skilled artisans. The fur we use is from alpaca that have died of natural causes – from baby Alpacas – or 'cria', as they are known. The younger, weaker animals often perish in the harsh Andean winter. The alpacas have not been killed for their fur. Alpacas can live for 20 years promising a lifetime of shearing potential of far greater value than a single pelt.
---
Superbia Fashion Ltd (View profile)
57A Derby street, Manchester, M8 8HW United Kingdom
Tel: 0161 278 8199
Email:
info@superbiaitaly.com
Web:
www.italianaccessories.net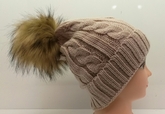 Superbia Fashion Ltd is a wholesale/ manufacturer that supplies ladies fashion accessories, such as: bags, purses, scarves, umbrellas, hats, capes and ponchos. Superbia®'s unique range is perfect for all the ladies who want to stand out from the crowd. Famous for supplying high quality products at a competitive price, short orders & forward orders are welcome.
---
Vixen Millinery (View profile)
Botleys Farm, Wick Lane, Downtown, Wiltshire SP5 3NW
Tel: 01725 512983
Email:
enquiries@vixenhats.co.uk
Web:
www.vixenhats.co.uk
Borne from the Vivien Sheriff Design Studio, Vixen Millinery brings together years of specialist expertise in headwear design and tonal colour matching to create unique and beautifully balanced hats and headpieces that will truly enrich every woman's special occasion styling.
Flattering hat shapes, classic and on-trend colour options, quality materials and ease of wear are key design considerations in VIXEN Millinery seasonal wholesale collections. VIXEN Millinery offer low initial order quantities and prices to suit most budgets
Complete and perfect the look for weddings, the races and other special event dressing with VIXEN Millinery hats and headpieces.