Trade suppliers' directory
You are currently browsing: Fairtrade / Ethical
---
Please mention Attire Accessories when contacting suppliers.
---
Classic Canes Limited (View profile)
Warren House, Hinton St George, Crewkerne, Somerset TA17 8TQ United Kingdom
Tel: +44 (0)1460 75686
Fax: +44 (0)1460 78222
Email:
info@classiccanes.co.uk
Web:
www.classiccanes.co.uk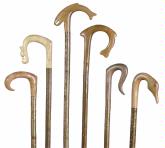 Classic Canes English walking sticks
Classic Canes grows and manufactures rustic walking sticks at its Somerset woodlands. Woods such as ash, hazel and blackthorn are coppiced using traditional forestry techniques. Walking sticks are handmade in the company's workshops.
Other walking sticks are made to Classic Canes' designs in the finest factories in the UK and abroad. All suppliers are required to comply with ethical trading principles.
---
Miss Milly (View profile)
14 Top Barn Business Centre, Worcester Road, Holt Heath, WR6 6NH
Tel: 01905 622509
Email:
hello@missmilly.co.uk
Web:
www.missmilly.co.uk

Freshwater Pearl Collection
We work on an ethical basis with all our suppliers, paying a fair deposit upfront to cover their material costs. Our suppliers range from small family businesses making our freshwater pearl jewellery to larger, more established companies.
---
Tribe + Fable (View profile)
Unit 119, Worlds End Studios, 132-134 Lots Road, London, SW10 0RJ
Tel: 0207 349 7075 / 07740 874111
Email:
sales@tribeandfable.com
Web:
www.tribeandfable.com



We work ethically with artisans and we use ethically sourced items within our jewellery. Our Packaging is made by a social enterprise group in the nairobi slums, supporting women affected by aids and giving regular work to allow the women to feed their children.