---
Elie Beaumont (View profile)
253 High Rd Leytonstone, London E11 4HH, Leytonstone, London E11 4HH United Kingdom
Tel: 0208 534 1230
Email:
info@iconwatches.com
Web:
www.iconwatches.com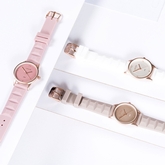 ---
Eton Watches (View profile)
Newcom Distributors Ltd, Unit 4 Neville Place, High Road, Wood Green, London, N22 8HA United Kingdom
Tel: +44 (0)20 8888 8238
Fax: +44 (0)20 8881 7506
Email:
info@etonwatches.com
Web:
www.etonwatches.com
The name ETON is synonymous with producing high fashion, great quality ranges of watches at amazingly affordable prices. Large selection of on-trend styles with seasonal colours. SRP £15-£50, Trade prices £5-£15
Also available are SEIKO, KOOL TIME and ODM watches
---
Henley Handbags and Accessories (View profile)
Tel: 01778 343000
Fax: 01778 338144
Email:
sales@timesourceltd.com
Web:
www.timesourceltd.com
HENLEY ACCESSORIES
Featuring co-ordinating handbags, cosmetic bags, purses and watches
---
INDX Accessories (View profile)
Cranmore Park Exhibition Centre, Solihull, West Midlands B90 4LF
Tel: 0121 713 4453
Email:
accessories@indxshow.co.uk
Web:
www.indxshow.co.uk/accessories





O.W.L Great Britain and Henley join Peers Hardy with their portfolio of watch brands including Radley, Orla Kiely, Lola Rose, Cluse, Halcyon Days and Henry London.
---
Premiere Classe (View profile)
29 rue Guénégaud, Paris, 75006
Tel: +33 (0)1 40 13 74 74
Email:
info@premiere-classe.com
Web:
www.premiere-classe.com/


PREMIERE CLASSE is the prestigious meeting point for designers of fashion accessories. Acclaimed for its exclusive selection, the trade show showcases designers of jewellery, eyewear / watches, shoes, leather goods as well as textile accessories.
PREMIERE CLASSE - Paris, Porte de Versailles
Autumn / Winter 2018-2019 collections: 19-22 January, 2018
Spring / Summer 2018 collections: 7-10 September, 2018
PREMIERE CLASSE (Paris Fashion Week Trade Shows) - Paris, Jardin des Tuileries
Autumn / Winter 2018-2019 collections: 1-4 March, 2018
Spring / Summer 2019 collections: 27-30 September, 2018
---
The Laboratory at the Birmingham Assay Office (View profile)
PO Box 151, Newhall Street, Birmingham, West Midlands B3 1SB UK
Tel: 0121 236 6951
Fax: 0121 236 3228
Email:
testing@theassayoffice.co.uk
Web:
www.theassayoffice.co.uk
Quick Nickel Testing - Fast Accurate & Cost Effective.
The quick nickel test is unique to the laboratory at the Birmingham Assay Office.
* Low-cost test for nickel compliance
The services available from The Laboratory at The Birmingham Assay Office include a wide range of tests applicable to precious and base metals not only in the Jewellery industry but to others sectors such as packaging, pharmaceutical and automotive products.
Many tests have been developed directly in response to customer requirements and this innovative approach, backed by a huge amount of research, has resulted in a wide portfolio of UKAS accredited tests.