---
Elie Beaumont (View profile)
253 High Rd Leytonstone, London E11 4HH, Leytonstone, London E11 4HH United Kingdom
Tel: 0208 534 1230
Email:
info@iconwatches.com
Web:
www.iconwatches.com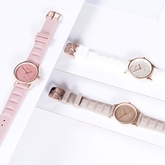 ---
INDX Accessories (View profile)
Cranmore Park Exhibition Centre, Solihull, West Midlands B90 4LF
Tel: 0121 713 4453
Email:
accessories@indxshow.co.uk
Web:
www.indxshow.co.uk/accessories





O.W.L Great Britain and Henley join Peers Hardy with their portfolio of watch brands including Radley, Orla Kiely, Lola Rose, Cluse, Halcyon Days and Henry London.
---
Mode9 (UK) Limited (View profile)
Email:
enquiries@mode9uk.com
Web:
www.mode9uk.com



IJL - LONDON OLYMPIA - STAND E48
---
O bag (View profile)
Unit 30 Monkspath Business Park, Solihull, West Midlands B90 4NZ UK
Tel: 0845 519 7171
Email:
sales@obag.uk.com
Web:
www.obag.uk.com





O clock, O clock great, O clock shift
The Italian designed O clock is the ultimate colour coordinating unisex watch with mix and match straps and dials in numerous vibrant colours.
You can mash-up over 6,500 beautifully stylish, understated or crazy colour combinations to make your O clock classic watch personal and exclusive. We sell the complete range of O clock classic watches with global shipping. Simply pop out the O clock watch dial and swap to an alternative strap colour.
---
The Laboratory at the Birmingham Assay Office (View profile)
PO Box 151, Newhall Street, Birmingham, West Midlands B3 1SB UK
Tel: 0121 236 6951
Fax: 0121 236 3228
Email:
testing@theassayoffice.co.uk
Web:
www.theassayoffice.co.uk
Quick Nickel Testing - Fast Accurate & Cost Effective.
The quick nickel test is unique to the laboratory at the Birmingham Assay Office.
* Low-cost test for nickel compliance
The services available from The Laboratory at The Birmingham Assay Office include a wide range of tests applicable to precious and base metals not only in the Jewellery industry but to others sectors such as packaging, pharmaceutical and automotive products.
Many tests have been developed directly in response to customer requirements and this innovative approach, backed by a huge amount of research, has resulted in a wide portfolio of UKAS accredited tests.