---
Eastern Counties Leather (View profile)
Portobello Lane, Sawston, Cambridgeshire CB22 3FA
Tel: 01225 865317
Email:
sales@ecleather.co.uk
Web:
www.ecltrade.co.uk
Eastern Counties Leather was founded in 1879, in the heart of Cambridge. They have more than a century of experience in the manufacturing of fine quality leather and sheepskin products. Their range consists of items for ladies, men and children including; coats, gloves and slippers.
More recently their range has expanded to include a successful small leather goods range with leather purses, bags and wallets. This range has proved incredibly popular and continues to develop every season.
To see more please contact us for a brochure.
---
Heather Hats and Accessories (View profile)
Unit 5 Haweswater Road, Penrith Industrial Estate, Penrith, Cumbria CA11 9EU United Kingdom
Tel: 01768 865023
Email:
sales@heather-fashions.com
Web:
www.heather-fashions.com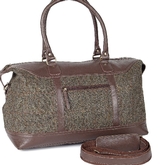 Elise Weekender Bag
Attractive yet functional British Wool Tweed Weekender Bag made from Abraham Moon tweeds. Sturdy cotton lining, leatherette trims, zipped side security pocket and protective studs to the base. Strong webbed canvas carry handles and detachable shoulder strap.
---
INDX Accessories (View profile)
Cranmore Park Exhibition Centre, Solihull, West Midlands B90 4LF
Tel: 0121 713 4453
Email:
accessories@indxshow.co.uk
Web:
www.indxshow.co.uk/accessories





INDX is shorthand for Independent Exhibitions and represents a group of unique fashion trade shows.
Organised by Associated Independent Stores (AIS) and curated by buyers with over 20 years experience in the sector, INDX shows are specifically and exclusively for independent retailers, attracting buyers from all across the UK and Ireland.
INDX Accessories presents 2 seasonal shows a year (April and October) held at Cranmore Park Exhibition Centre in Solihull, just minutes from the NEC and Birmingham International rail and air links.
Committed to meeting the diverse requirements of today's indies, INDX Accessories delivers a focused exhibitor selection featuring over 100 exciting brands including leading names such as Valentino, Fiorelli, Kipling, O Bag, Gianni Conti, Tutti & Co, Juno and Kangol.
INDX Accessories is a totally unique trade show experience. We provide a professional, informal and relaxed buying environment and admission, exhibition guides and on site parking are free.
Buyers are also treated to complimentary lunch and complimentary refreshments throughout their visit - removing all the stress usually associatred with attending trade shows.
A full exhibitor list can be found on the INDX website and Buyers can register online for free admission tickets and find brand updates on our fashion blog:
www.indxshow.co.uk/accessories
Email: accessories@indxshow.co.uk
Tel: 0121 713 4453
---
PellMell (View profile)
52 Campbell Street, Helensbugh, G84 9YP
Tel: 01436 677442
Fax: 01436 670292
Email:
sales@pell-mell.co.uk
Web:
www.pellmell.co.uk
A boutique collection of leather handbags, with matching small leathers and satchels for men, designed in Scotland.
The leather bags are complimented by a range of heritage influenced Tartan bags and wallets blended with leather trim and handles. New to the range is a comprehensive collection of small leather goods, purses wallets, gent's wallets, and cufflink boxes all making great gifts.
Display stands and point of sale materials and gift boxes are supplied to accompany the range.
---
Premiere Classe (View profile)
29 rue Guénégaud, Paris, 75006
Tel: +33 (0)1 40 13 74 74
Email:
info@premiere-classe.com
Web:
www.premiere-classe.com/


PREMIERE CLASSE is the prestigious meeting point for designers of fashion accessories. Acclaimed for its exclusive selection, the trade show showcases designers of jewellery, eyewear / watches, shoes, leather goods as well as textile accessories.
PREMIERE CLASSE - Paris, Porte de Versailles
Autumn / Winter 2018-2019 collections: 19-22 January, 2018
Spring / Summer 2018 collections: 7-10 September, 2018
PREMIERE CLASSE (Paris Fashion Week Trade Shows) - Paris, Jardin des Tuileries
Autumn / Winter 2018-2019 collections: 1-4 March, 2018
Spring / Summer 2019 collections: 27-30 September, 2018
---
The Healthy Back Bag Company (View profile)
90 De Beauvoir Road, London, N1 4EN UK
Tel: +44 (0)20 7812 9800
Email:
cathy@thehealthybackbag.co.uk
Web:
www.thehealthybackbag.co.uk

The Healthy Back Bag's unique teardrop shape distributes the weight you are carrying evenly along the length of your back rather than pulling from one point on the shoulder - so it doesn't pull away from the body.
The fact is, the more places a bag touches your body when you wear it, the lighter it feels - it becomes part of you - and encourages good posture. Because the there are no rigid bits in or around The Healthy Back Bag, it moulds to your shape. This combined with a non-slip strap ensures that the bag both contours to your back and stays on your shoulder, however you wear it.