Divine intervention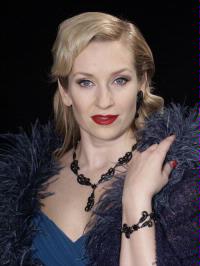 Tell me a bit about how DIVINE was started up.

DIVINE launched at Home & Gift, Harrogate in 1999 as a continuation of a business I had previously owned in New Zealand. As well as designing and manufacturing my own home fragrances and giftware brands, I distributed the Sweet Romance jewellery collection. I sold my business in New Zealand in 1998. Finding myself footloose and fancy free, I decided to come to London to spend time with my daughter and her new family, and to travel around Europe.

By the time I arrived here, my first grandchild was born. Of course it was love at first sight, so it didn't take me long to realise I would need to stay on for a while.

What was the aim of DIVINE when it was first established?

In establishing DIVINE, I knew the jewellery collection would offer something very special and completely different. It was a great way to earn an income, whilst allowing me the flexibility I needed to spend time with the grandchildren and to travel. Introducing and marketing Sweet Romance in the UK and Europe was an exciting and rewarding venture.

How were the initial products developed and what was the response?

Before starting the business, I visited Spring Fair and could clearly see that no one was offering anything historic, vintage-inspired, or glamorous like the Sweet Romance collection. Exhibitors I met told me that sterling silver was the only jewellery to sell. One of my talents is being able to spot a gap in the market and being able to predict what the next big thing will be. So, after that visit, I was convinced that there had to be more to the British market place than sterling silver.

Because of my experience with American antiques historian and designer Shelley Cooper, I chose to be her UK and EU distributor. I knew her and the collection very well and so we worked out a plan. I launched at the Home & Gift Show in Harrogate in July that year.

What challenges were overcome when the company was starting out?

Thanks to my business experience, I didn't find the set up procedure too challenging at all. I found an excellent accountant, so the business structure and management side was straightforward. With timely deliveries from the USA, retailers were happy and the business went from strength to strength in a short space of time. As the jewellery is made to order and supplied promptly, sales started to exceed expectations. I also joined the JDA (Jewellery Distributor's Association) who give tremendous support and guidance.

What sets DIVINE apart from its competitors?

First and foremost, it would have to be the jewellery we sell. Sweet Romance is a stunning collection with thousands of hand made styles covering historic periods from the Renaissance to the '70s. Shelley's skills are the result of a life-long passion for both jewellery and historical periods. Her knowledge of the industry and the work she produces is incredible – and Sweet Romance is collected all over the world.

Shelley and her partner Sue started this business in the '80s. All castings start from waxes, which are made following the creation of hand-drawn illustrations by Shelley. Each item of jewellery has an historic story which of course makes the design even more special. The level of detail in each design is incredible, and this is only enhanced by the high quality materials used to create each heirloom- worthy piece. Manufactured at the Sweet Romance workshop, using original American techniques, each design is hand-forged, stone-set and burnished by the highly skilled staff of artisans, most of whom have been part of the team for many years.

We have recently introduced another American jewellery designer and manufacturer to our collections. Classic Hardware by Karyn Cantor is made with equal care, love and attention. "Rock 'n' roll with sass" is how Karyn describes her designs – and they are just so fantastic! This wide and varied collection features the art works of 15 different artists, and is stocked by rock, vintage and music stores, museums, galleries and boutiques.

Apart from fabulous jewellery, what sets us apart? We do not stock "for the moment" jewellery, or have seasonal designs. Our collections are available to our retailers at any time of year. They need to know they can repeat on best selling styles when they want to. We are not fashion driven, or led by the high street. Instead, our jewellery is glamorous, elegant, retro and collectable within its own context. Only the best quality materials are used. Both companies register each piece with a design trade mark and stamp each item of jewellery so customers know they have the genuine article.

Finally, it is important to me that we offer jewellery with providence. It is important to our retailers too. It is helpful to know where and how the jewellery is made, and the history of the designs and designers. It's also very important for us all to know that the craftsmen working in the studios are employed under local laws, paid properly and not exploited.

How important is the location and history of the company to its success?

Location is not important at all to us. As a distributor, we can work from anywhere. Our history is only relevant in the sense that we have had the same collection of jewellery for 12 years, and I think that says it all. Continuity is a good thing and it works. Many of our retailers have been with us from the beginning.

How has the product offering changed over the years and how would you describe your current collection?

The manufacturing and quality, selection of styles and customer demand have all remained the same.

Sweet Romance has obviously grown considerably over the years, and now includes the new retro collection, OLLIPOP. This line alone has over 300 individually designed stunning cocktail rings.

With the recent introduction of Classic Hardware, we have a much wider range of very exciting jewellery for retailers to share with their customers.

How often does DIVINE launch new lines?

Usually four times a year. Shelley will find inspiration in a new story or theme, which often develops over two or three collections. Karyn does the same, so you could say that we always have new styles to share with our retailers, either at shows or on appointments.

What are the current best selling designs and tell us about recent campaigns?

We are very much about choice. Retailers like to create their own looks and themes, so we don't really a need campaign to drive a particular product or look. With our wide and varied ranges, the products sell themselves.

Which trade shows do you attend and which one works best for DIVINE?

Both of the Top Drawer shows, Pulse, Spring and Autumn Fairs are good for us. The shows work well for meeting new retailers and displaying the whole collection in one place. However, many of our retailers prefer to see the collections at their premises. They can go through everything, replenish their stock of old favourites, and plan the inclusion of new designs.

When was the website launched and how does it support the business?

Launched about nine years ago, the website was initially introduced as a retail site which complemented our advertising in fashion magazines. It helps our followers who may not have a retailer close by and works for our retailer customers as a useful product reference. I view our website more as a presence in the market place that everyone benefits from, rather than just a retail opportunity.

What have been the key milestones in the business?

The pleasure of seeing our collections displayed and advertised by leading retailers such as Fortnum & Mason and the Kensington Palace Shop is a big highlight for me. Exporting to Russia and Europe on a regular basis has been an exciting achievement too. Of equal importance is the pleasure we have in seeing so many dedicated, independent retailers sharing and promoting our products to their customers.

How do you view the current market and what trends, both in product and in business, do you see emerging?

In this current global situation, it's understandable that people have to be careful about personal expenditure. The feedback I get is that customers are looking for something with a design vision and quality that will last well into future seasons, and have some significance as well. In terms of trends, we all have our own particular style, and with the varied selection we provide, people are able to create their own looks. Consumers seem happier to spend if they know that they're buying something that will last.

What are the future plans for DIVINE?

To continue to share Sweet Romance and Classic Hardware with all of our retailers, introduce the collections to new retailers and continue our expansion in both the UK and Europe.
Date Posted: 20 August 2012