Up, up and away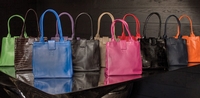 Tell me a bit about how the RedDog label was started.
Most of my life has been spent travelling as an expat with my husband and three children. Although the concept of an organiser already existed on the market, the look of them and the materials they were available in weren't in my opinion very exciting. I wanted to create something that you can show off with pride, nestling inside one of your handbags or briefcases one can be organised and chic at the same time, you know!

And so, the work began to bring out the ultimate organiser, and the BagPod was created. It's now available in butter-soft Italian and Turkish leather, as well as a natural canvas; more materials and styles are being tested and introduced as we speak. ­the beauty of the leather BagPod is that it doubles up as a chic clutch. It comes with an adjustable leather wrist strap and a key fob that changes into a leather loop with one easy step. With today's restriction on hand luggage on many airlines, it's an irresistible solution. ­This was when RedDog was born.

What was the aim of RedDog when it was first established?
To redesign your hand-held life! I wanted to create a smart, elegant toolkit with bite to help busy people organise and accessorise, with the added benefit of looking effortlessly glamorous. The RedDog range is a sophisticated mixture of British design and Scandi-chic.

How were the initial products developed, and what was the response? ­
The first BagPod was made in leather by the same small family company that still manufactures all my leather products to this day. We had some trial and error experiments with the first samples, as I wanted to get the leather just right for a handbag. It needed to be light since it would be carried in a bag, but the leather also had to be durable so that customers wouldn't have to worry about the wear of constant use.­ The beauty with good quality leather products is that the more worn it gets, the more attractive it becomes.

My first collection launch was in 2009. I took the big step of exhibiting at Pulse in Earls Court, London and the response was very positive. Over the course of the show's three-day duration, I gained several stockists, as well as plenty of positive feedback and leads, which gave me the encouragement I needed to continue. In 2009, the country was in the middle of the recession and it was a huge decision to put RedDog on the map but I've never looked back since!

What challenges were overcome when the company was starting out?
Managing cash flow is a constant nightmare when investing in a growing business, and from the start I was determined to make it on my own, without taking out any loans from the bank. It was a steep learning curve, but I believe that as long as you learn something new every day, may it be positive or negative, then you're still on the right track. To think you know everything there is to know about your industry can be a huge mistake.

What is it that sets RedDog apart from its closest competitors?
My leather products are still hand-made in Europe. There seemed to be a tendency to have products produced mainly in China for years, but now there's a surge of production returning to the UK and Europe. For some products this is possible, but for others not. At the moment, there seems to be no way to manufacture my cotton canvas BagPods in Europe at a competitive price point, but if anyone knows a solution, I would love to hear it!

I hope the design of our products, with their strong, pared-down Scandinavian aesthetic is what makes them different from others on the market, and I believe that the mix of traditional and modern Scandinavian approaches shines through in all my pieces.

How important is the location and history of the company to its success?
The RedDog office and showroom is based in the beautiful countryside of south Wales. Perhaps it would sometimes make life easier if we were based in London, especially when arranging meetings for example, but since RedDog is a global brand, it can be run with ease from anywhere really. More importantly for me, is it has to be a workplace in which I can feel inspired, as this will then shine through in the RedDog collections.

How has the product offering changed over the years and how would you describe your current collection?
The BagPod is our main product line and it's going from strength to strength. ­ The canvas version was introduced after a year's trading to present a BagPod that suits all customers that are interested in organising their lives in an elegant yet functional way.

Our current collection is maintaining the classic pieces that are ever-popular while also introducing new colourways that follow the trends of the fashion houses. We now find ourselves in demand, as the brand is expanding into the airline industry - we're currently listed in four different airline in-flight magazines for online purchase. We feel that for a certain part of our collection, this is the natural path to follow, especially as the BagPod is the ideal travel companion.

How often does RedDog launch new lines?
We're launching newer lines rather sparsely for a small company, we feel it's important to keep the line concise, instead offering new colours a couple of times a year. We don't want to dilute the brand. Our BagPod, Jackie handbag and the smaller leather accessories are all tailored for your hand-held, everyday life. However, any of our products can be created to fit the specific customer's needs, as long as we get the quantities right.

What are the current best-selling designs? ­
The BagPod, in both leather and canvas, is our best-selling product, and we're getting a steady celebrity following that loves them too - we'll namedrop at a later stage! The craftsmanship, luscious leathers and the chic designs are timeless, easy on the eye and ultimately very useful. Definitely a winning combination!

Which trade shows do you attend and which one works best for RedDog?
Over the past three-and-a-half years I've exhibited at Pulse, Spring Fair, Pure and Top Drawer here in the UK. I feel it's never possible to know before a show how it'll benefit the brand, but I also believe that it's important to have a presence. Depending on the time of year, buyer attendance and weather, the shows work in different ways for each season. I think all shows have pros and cons, but overall they are working perfectly to showcase the RedDog collection. In the autumn, we're spreading the RedDog wings by exhibiting in other countries. We'll be attending Maison & Objet in Paris for the first time, and in October we're heading to Hong Kong. These are exciting times for the company.

When was the website launched and how does it support the business?
Our website was launched when the business took off in 2009. We're very much using it as a showcase for retail, as well as wholesale buyers. Since we're receiving quite a few customers from abroad, it's an indispensable tool for RedDog to reach Europe and beyond. We have web sales from Asia, Australia and the rest of the world the brand's going global! We're also enjoying using social media to reach new customers, both on Twitter (@bagpod) and Facebook. We also do regular newsletter updates and blog posts for anyone that wants to follow the RedDog journey. We have an easy, one-click sign-up form on our website.

What have been the key milestones in setting up RedDog?
We've reached many small and some larger milestones along the way, and we're hoping to continue in this fashion. We're still a young, dynamic company that's taking every day in its stride. RedDog has garnered many awards and accolades including being a finalist in Drapers prestigious Best Accessories Designer of the Year in both 2012 and 2013, as well as being a winner of Smarta 100, which is a hugely encouraging endorsement.

What are the future plans for RedDog?
At the moment we're working on a British-made BagPod: an exclusive and ultra-chic piece that we hope to be able to showcase to selected stores and boutiques by late autumn. We also hope to lay the ground for further brand growth and take on further distributors across the UK and in Europe.

Additionally, we've also designed a special edition of the BagPod for the travel industry, both in canvas and leather. You'll have to wait to see these products until you're aboard a flight venturing to - hopefully - warmer climes!
Date Posted: 20 August 2013