The Moral of the Story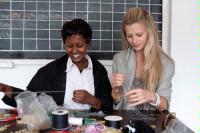 Made designers work closely with jewellery technicians in East Africa
In the beginning...
Italian by birth, Cristina came to the UK to study buying and merchandising at the London School of Fashion. After this she had a long and very successful career sourcing clothing in Italy for Harrods and Harvey Nichols. Cristina then moved onto sourcing leather shoes and accessories for major leading department stores in the UK. Around 2004 Cristina started to become disillusioned with the fashion industry following the rise of disposable fashion and the mass move of the clothing market to China. During various trips to Africa, Cristina fell in love with the people and saw the potential in the craftsmanship of the jewellery being made in the slums of Kibera in Nairobi. It was clear to Cristina that the workmanship of the products being offered to tourists could easily be transferred into ideas for jewellery that could be marketed on the UK high street, and that this would give the artisans a whole new retail outlet with a regular income. Made started as a small collection of jewellery, but the potential was quickly realised and five years later the company now boasts its own beautiful workshop with 80 full time workers. It produced stunning collections and collaborations for Whistles, Jigsaw, Topshop, Matches, John Lewis, Asos and high profile collaborations include Louis Vuitton, Alexa Chung, Laura Bailey, Livia Firth, Pippa Small and Natalie Dissel.

How does Made work?
Cristina: All Made workers are set up with a bank account, which gives them an identity. They receive a wage that is well above the government minimum wage. In addition they receive a housing allowance, a travel allowance, health care, hot meals while at the workshop and an equal opportunities working environment. Where possible, Made sources all its materials from Africa. The majority of materials used are recycled - brass from door handles, bath taps and padlocks, glass from bottles, wood from sustainable sources and cow bone, horn and leather - bi-products of the food industry. You will not find any precious stones in our collections as it is extremely difficult to track the heritage and guarantee that it has been ethically sourced. We are also independently audited by a company called Africa Now that rigorously checks our ethical credentials.

Tell us about your designers...
Cristina: Alongside our core collection Made is extremely lucky to have collaborated with an incredible array of designers ranging from the crème de la crème of the jewellery world such as Pippa Small, Bex Rox, Natalie Dissel and Brian Crumley, as well as high profile celebrities such as Alexa Chung, Laura Bailey, Livia Firth and Peaches Geldof, with each designer bringing their own signature resulting in a variety of exclusive collections. It is integral to the Made brand that our designers understand our product and the incredible story behind it - not only is Made about stunning jewellery, but also the people that make it, therefore we only collaborate with those who have a deep understanding of our brand.

Describe a normal working day for you, if there is one...
Cristina: There is never a normal working day. I am based in Nairobi, Kenya but I come back to the UK every month. When I am in Kenya I spend my time at our workshop, where no two days are the same. I am the face of the company and my husband is the backbone. He manages and runs the workshop and, as creative director of the brand, I do a lot of the designing myself together with our fantastic Kenyan development team and in-house jewellery technician, Lesley Ross. My day can involve anything from working on new designs and briefing the development team, meeting our new or existing suppliers, scouting out new beads and techniques from the local markets and visiting the children of Bidii in Kibera - the school that our charity Made Africa supports. We also take time showing non-governmental organisations (NGOs) around the Made workshop because we have a great reputation and are an excellent example that 'trade not aid' really works. Frustratingly, a fair bit of time is also spent getting from one place to another as the roads in Nairobi aren't great!

How has your involvement with Estethica helped to raise the Made designers' profiles?
Cristina: Estethica is a fantastic platform to showcase new designers and this year we were delighted to have recently launched our inaugural collaboration with Hattie Rickards. Estethica is a great way to let the fashion world know what you're up to. We have been inundated with people asking where they can get Hattie's collection - the answer is Matches.com and Made online.

How has the importance of ethical credentials changed recently?
Cristina: The importance of ethical credentials has massively changed over the last few years because the customer is much better informed about ethical and fair trade issues, and therefore is beginning to question ethics and shopping with this in mind. This means that companies can no longer get away with a meaningless nod to ethical trading and have had to make the entire process transparent and long term - something that Made is proud to have done from the beginning.

How would you like ethical fashion to change over the coming years?
Cristina: Ethical fashion is growing rapidly and finally big brands are starting to realise that ethical doesn't have to mean quality is compromised. Over the next few years I would like to see more corporate companies follow in the footsteps of the likes of John Lewis. John Lewis' support of environmental projects worldwide and its constant improvement of product quality, whilst retaining rigorous ethical standards, is setting a precedent for other big companies. Meanwhile, Made is committed to producing high quality products in an ethical/fair trade environment, providing support at every level for our valued workers. Although we consider our company to be of an excellent standard of ethical practice we are always striving to improve. In the coming years our long term aim is to grow the Made family, perhaps launching Made Uganda and Made Sudan. The future is very exciting.
Date Posted: