Articles
On the pull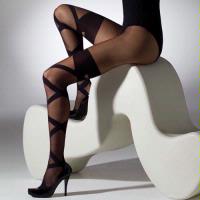 HOT LEGS: Gipsy has been producing hosiery since the 1940s
Company history...

At the forefront of British legwear fashion since the 1940s, Gipsy tights and legwear has grown from strength to strength. It has now an established and trend-savvy brand, winner in 2004, 2005, 2006, 2007, 2008 and 2010 of the Associated Independent Stores Best Legwear Supplier of the Year award.

Gloriette Hosiery Co was founded in 1955 by Rudolf Bresley who had been in the hosiery business since 1946 - originally a buyer from Kunert in Czechoslovakia. In 1966 the brand Miss France started and was the first company in the UK to market tights (from France) - this was quite a revolution in legwear, particularly with the launch of the mini-skirt, as before that only stockings were available.

In 1975 Gloriette started looking for new production outlets, which in turn took them to Italy. Gipsy was the first British brand to start sourcing from the country. At the time the product was being made using the brand new knitting construction smooth knit as opposed to micro mesh, which was the standard at the time, and Gipsy became a runaway success. Since then it has supplied millions of pairs of tights annually to women in the UK. Sarah tells us more...

What was the aim of Gipsy when it was first established?
Gipsy's aim was to provide top quality stylish hosiery at competitive prices with a fast, efficient delivery service. We always wanted to put our customers first, thus building true brand loyalty from all parties. We have dedicated staff in both our offices and warehouse - enabling us to despatch 95% of our orders within 48 hours of them being placed. We maintain excellent stock levels in our warehouse in all our styles, and are rarely out of stock.

How have trends and the importance of hosiery changed since Gipsy began?
We are a small family-run business in its third generation, and we work closely together in order to bring our customers a wide variety of legwear to suit all ages, from the very young to the very old. From 7 denier to 300 denier, from nylon to cashmere, to nearly all colours of the spectrum - there is bound to be a style to suit everybody!

How were the first products developed?
When Gipsy began there was only one style available - 20 denier sheer tights in about 30 colours (in fact this product is still a best seller at Gipsy). Slowly more styles were developed; in the 80s Lycra (elastane) was added to hosiery, totally changing the construction. This led to a multitude of opaque tights being developed and now we are spoilt for choice with more than 150 gorgeous styles to choose from. Hosiery has become a very important accessory to every woman's wardrobe whether you are wishing to add sophistication, elegance or some fun to your legs.

In this difficult economic climate it's a great little accessory to update your wardrobe with the latest 'on trend' colour or style, without having to spend a fortune on a new outfit.

What are the best-selling designs?
Currently our best selling designs are our 100 denier tights available in 16 shades (with more to come for this autumn season), our bondage tights, mock stockings, mock suspender, and spot and seam tights have all sold beyond our expectations!

Presently 2.5 million pairs of tights are sold annually to department stores such as Associated Independent Stores (AIS), Bentalls, Fenwicks, Beales, we're also stocked in lifestyle boutiques like Oliver Bonas and Bensimon and independent shops and boutiques throughout the country. Internet customers include ASOS, Stockings HQ, UK Tights and many more.

Finally, what does the future hold?
In the future Gipsy would like to grow as a business, expand into new markets and keep on winning awards!
Date Posted: