Articles
Picture perfect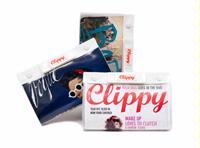 How was Clippy started, and what has your involvement been?
Clippy started life on the kitchen table at home, when I made a bag to display my considerable collection of Polaroids. On my first outing with the bag, I was stopped by girls wanting to know where they could get it. I then borrowed £2,500 from my family to start production. My aim at the time was to be able to sell this first batch, and pay them back. I work primarily with my mother and partner, Clare Hastings.

How were the initial products developed and what was the response?
I sourced a UK plastics manufacturer on Kelly's directory. They were very helpful, and agreed to do a very small run. I hired a stall at Portobello Road Market, and over the course of a month sold all of the bags. It was here that the product was spotted and picked up by a boutique in Notting Hill - Coco Ribbon - which had a flourishing celebrity clientele. They even ended up being sold in the Sloane Square branch of hairdressing salon, Richard Ward. Soon, Helena Bonham-Carter, Jools Oliver and Thandie Newton were toting Clippy bags.

How important is the location and history of the company to its success?
It started in London, and this allowed the trend to catch on quickly. The tipping point came when I won the London Young Business Person of Year. The award changed the fortunes of the brand ? we had so many orders online from the publicity that we could afford to develop more products.

How has the product offering changed over the years, and how would you describe your current collection?
We produce a number of different sizes, fabrics, linings, trims and inserts so that customers can create an 'instant' personal bag. As Clippy fans tend to be teenagers, we added files and pencil cases to the range. This season, we are launching an entirely new line at Pure called 'Out to Lunch with Clippy'. They're insulated lunch bags that also manage to look like elegant handbags. The new design is aimed at our core customers - teenagers and mums.

What are the current best-selling designs and tell us about the recent campaigns?
Over the last year, sales of our more expensive items have slowed down, but our cheap and cheerful make-up bags sell extremely well. Our most recent campaign is in conjunction with Legally Blonde the musical. Fans of the show can personalise a Clippy bag with images from the production. This year, much of our focus has also been pointed towards Japan, and we have a pop up shop opening soon in Tokyo.

When was the website launched and how does it support the business?
We started with a 'do it yourself' website at the very beginning, and over the years have kept developing it ‒ as it explains the product ‒ and keeps our customers interested in the brand. We recently introduced a new element, where customers order a bag, and we fill them with their own Facebook photos. In the recession, the website has really helped keep us going, not just for direct sales but for marketing abroad.

How do you view the current market and what trends do you see emerging over the coming months?
I think that the UK market is still struggling. We're exporting a lot this year, and that has given the company a huge boost.

Internet business will continue to increase, so we have invested into our web development. There has clearly been a trend towards 'make do and mend' in terms of sewing, as well as a rise in 30-something Londoners enjoying hobbies, workshops and activities.

What are the future plans for Clippykit?
There are a lot of ideas in the pipeline. Being able to customise our bags online has opened up more opportunities for sales. We have designed a Facebook application, which can connect with fan pages, allowing followers of a pop group or theatre production to order their own one-of-a-kind Clippy bags.
Date Posted: