Standing the test of time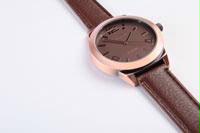 Tell me a bit about how Icon Watches was started and what your involvement has been?

The ideology of Icon Watches was born out of the realisation that there has been a growing trend towards fast fashion in the accessories sector, and that watches and timepieces were a key element of this movement. It's no longer the case of people having "a watch for life" - watches are now a fashion accessory; and increasingly, a reflection of an individual's look and lifestyle.

I joined the business once the company had begun to capitalise on this opportunity. My personal background before Icon Watches includes six years of marketing and business development within several globally-renowned financial brands. My involvement in Icon Watches covers many bases - I've been through the whole process and have contributed to everything from product design and brand development to the execution of marketing campaigns.

What was the aim of Icon Watches when it was first established?

Our aim has been to accelerate the trend for watches as a fashion-led accessory by becoming the leading supplier of on-trend watches to the European independent sector, which we back up with excellent levels of customer service. We were also keen to ensure that the everyday woman benefits from us supplying products that are affordable - I get a lot of feedback from customers who say that they've been inundated with compliments on how expensive and fashionable their watch looks.

How were the initial products developed, and what was the response?

After identifying the opportunity in the market for trend-led timepieces, our initial ranges were developed through researching current and future fashion trends. We then experimented with the ways that these styles could translate for watches. This led to the creation of some extremely cutting-edge designs, which despite certainly being eye-catching, perhaps didn't possess the practicality necessary in such a functional accessory - an important early lesson for us.

Further research showed that the primary reason for purchasing a watch is to accessorise, in which case, we would have to focus on being sufficiently on-trend; and the secondary motivation was to give a watch as a gift. Another aspect that we had to consider was what price customers would be willing to pay for what was, at that point, an unknown brand.

The response at our first trade shows in autumn 2006 was overwhelmingly positive. We managed to open many new accounts at each show, and tellingly, we had other companies contacting us immediately afterwards, placing orders in time for Christmas. I'm pleased to say that a significant majority of those early customers still order from us today - so hopefully we're doing something right!

What challenges were overcome when the company was starting out?
There has been a misconception that mobile phones would bring with them the death of watches. On the contrary, the demand for watches is as strong as ever, due to their new identity as a fashion piece. Similarly, we wanted to change the mindset that watches are a jewellery item - they were once high cost products, that were decade purchases, rather than the completely affordable impulse buys that they are today.

Internally, we also had to overcome our urge to be conservative about production, to ensure that we had enough stock fulfil retailers' advance orders, in the face of continually increasing demand. Having a large, established customer base has given us the confidence to increase the volume of product that we manufacture, despite the general economic conditions.

Due to the impracticalities of producing a catalogue - styles turnover so quickly that a professional catalogue would be obsolete days after production - we now update customers about new designs through email campaigns, our website and agents, in addition to 'old school' printed paper look books.

What sets Icon Watches apart from its competitors?

The ability to spot trends within fashion and apply them to the watch market within a short time frame. In this regard, imitation truly is the sincerest form of flattery, as many of our styles become available a few months later through our competitors. This is something we've come to accept - we just look to capitalise on the next trend. Our contemporary vision means that our watches are stocked in both fashion and lifestyle departments, in addition to the more conventional watch sectors.

Another aspect that sets the company apart is the approach to customer service. We really value our stockists. Not only do we try to dispatch orders as quickly as possible, we have nominal minimum order quantities to encourage new accounts. There is even a member of staff totally dedicated to after-sales support. We realise that sometimes it is necessary to go that little bit further to ensure that a customer is truly satisfied. Additionally, Icon Watches prides itself on its helpful sales service, by advising retailers on the best-selling lines - we're much more interested in a long-term business relationship than a one-off sale to get rid of some dead stock. Our company heritage spans 35 years, so we are most definitely not a 'here today gone tomorrow' operation.

How important is the location and history of the company to its success?
The business started out as a wholesaler of various gift lines, of which watches were just one. This understanding of customer needs and ability to identify market trends was carried through into Icon Watches. Our 35 years of experience within the watch industry has given us an extensive and exhaustive knowledge of production processes, quality and practicality of design.

With well-established offices in both the UK and Spain, we are able to benefit from exposure to key fashion developments, both in domestic and international markets.

How has the product offering changed over the years and how would you describe your current collection?
At the beginning, ranges were comprised of fewer than 20 different styles under one brand at a relatively high RRP, we have evolved to our current status of over 200 style across four major brands, all with their own distinctive characters.

How often does Icon Watches launch new lines?
We launch two major collections from each of our four major brands per year, with mid-season ranges also becoming more of a necessity, as trends and styles - and therefore consumer tastes - change so quickly.

What are the current best-selling designs and recent campaigns?
2011 saw us build on the hot trend for watches with brightly coloured silicon straps - as forecast and previewed by us in 2009/10 - as well as developing our Sugarbaby brand, and colour tennis ball displays. However, as 2011 progressed, we find that designs have simplified, with a general move away from over-the-top bling styles. 2012 will follow this recent path towards cleaner, simpler designs, with vibrant colour-blocking. This will be reflected in our stand displays during the new trade show season.

Which trade shows do you attend, and which ones work best for Icon Watches?
In the UK, we exhibit at Spring Fair, Autumn Fair, Home & Gift, Pure London and Top Drawer, as well as the Scottish trade shows. In terms of writing orders, we find that the Spring Fair and Home & Gift events are the stand-out exhibitions for our product ranges, as buyers come to us early in the season knowing that our collection is where they'll source the up-and-coming fashion watch trend.

When was the website launched and how does it support the business?
We had a basic catalogue website from the outset in 2006, which was later developed to incorporate online ordering. It's currently due to be re-launched as a more customer-friendly site in early 2012. It is a tool which allows our customers to be up-to-date with what stock we have in, as well as serving as a shop window into our business for prospective buyers.

What have been key milestones for the business?
Since the company was founded and began supplying retailers in the south east area in 1977, there have been a number of landmark moments. In 1991, our designs were featured in extensive national newspaper campaigns. Two years later, we opened our office in Spain, so that the company could focus on expansion in the European market. The Icon Watches division and Anaii Pink fashion watch brands were both launched in 2006, while Sugarbaby was unveiled in 2010. 2012 sees the launch of the budget brand Pandemonium, which is surely a sign that Icon Watches will have many more milestones to look forward to in the future.

How do you view the current market, and what trends, both in terms of product and business, do you see emerging over the coming months?
Although we live in challenging times, I believe that the economic downturn has led to fewer big-ticket purchases, but also far more "small" purchases, on a more regular basis, especially in the lower cost fashion accessories sector, to help accentuate or alter a look. Watches will continue to be at the forefront of this - particularly quality designs at affordable price points.

What are the future plans for Icon Watches?
I hope that we continue to be a major supplier to independents in the UK, and aim to ensure this by providing quality, great customer service and innovation of design. We will continue to develop our growing label division, OEM, in multiple sectors.
Date Posted: