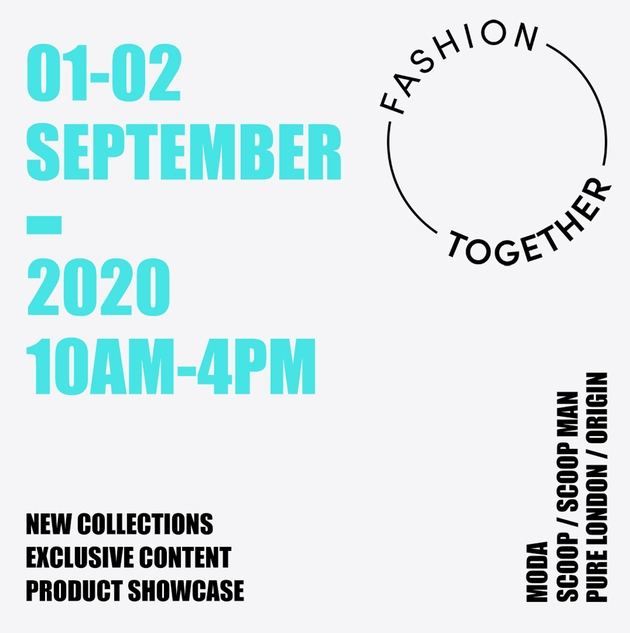 Hyve Group has today kicked off its Fashion Together event, taking place virtually today and tomorrow. This year, in place of physical shows, Hyve Group's fashion portfolio will be going virtual.

Designed to bring the industry together, even when we remain apart, Fashion Together will provide a key hub for industry professionals in the UK and around the world.Bringing together the key elements of what makes shows Pure London, Pure Origin, Moda and Scoop special, Fashion Together will provide key industry insights, as well as a first-hand look at the latest styles, trends and collections.

An exclusive content programme will provide access to of-the-minute industry intel, trend insights, peer-to-peer panel sessions, and more. Among the line-up are speakers from Drapers, TheIndustry.fashion, Conscious Fashion Campaign, Stella McCartney, Kering, and many more. Dedicated Virtual Showrooms will also provide buyers with an easy and accessible way to discover new brands and see what their current partners have to offer.

The Virtual Showroom will provide carefully curated brand and designer line-ups across the three Hyve Fashion websites, with exhibitor lists unique to each show. Dynamic profiles will allow brands and designers to put their best virtual foot forward, with capabilities to host videos, lookbooks, brand imagery and more.

Another exciting development is the Product Showcase. Giving brands the opportunity to take buyers on showroom tours, or simply talk through their latest collection, the Product Showcase offers exhibitors the chance to submit a 5 minute video to be shown to buyers during a sector-specific time slot.