Joe Davies (Manchester) Ltd
149 Broadstone Road, Reddish, Stockport SK5 7GA
Telephone: 0161 975 6300
Email: sales@joedavies.co.uk
Web: www.joedavies.co.uk
Joe Davies are a family owned business with traditional values built on over 95 years of customer service. With over 10,000 sensibly priced lines in our collection, we have the UK's largest selection of Giftware for the independent retailer.

Brands include our own exclusive Shudehill Giftware Collection, Equilibrium, Rose & Co, Poo Pourri®, snoozies!®, Price's Candles and the Leonardo Collection. All our items are available in modest quantities and sensible assortments, with all orders over £100 delivered carriage free, nationwide.

We are extremely proud to have been voted winner of the Greats "Best Service to the Independent Retailer Award" 14 times by our customers - that's every year since its inception!

The Joe Davies Equilibrium Collection continues to be the UK's hottest jewellery brand. Over 500 new 'on trend' pieces are introduced each season. The Equilibrium range includes fashion and sentiment jewellery, which is great quality and value for money, as well as fashion accessories like bags, scarves, hats and gloves. Attractive packaging is a strong selling point of the Equilibrium Collection and makes it a delight to merchandise and a pleasure to give and receive. This season sees some good advances in packaging including gorgeous new sentiment boxes, an extended vintage collection and some attractive new CDU's to maximise sales.

Seeing our collections is easy, visit our showroom, log on to our very easy to use website, request a visit from one of our area sales reps or see us exhibiting at one of four trade shows we attend each year.
Equilibrium sentiment jewellery is one of Joe Davies' most successful ranges. The heartfelt messages are debossed into each piece of jewellery which is then plated in silver or rose gold. There are a range of sentiments for everyone, including specific captions for mum, nan, sister and friend, to name but a few. There is also a huge selection of general inspirational messages to suit all needs. The sentiment collection has undergone a unique packaging re-vamp which is sure to enhance the already phenomenal all year round success of this range.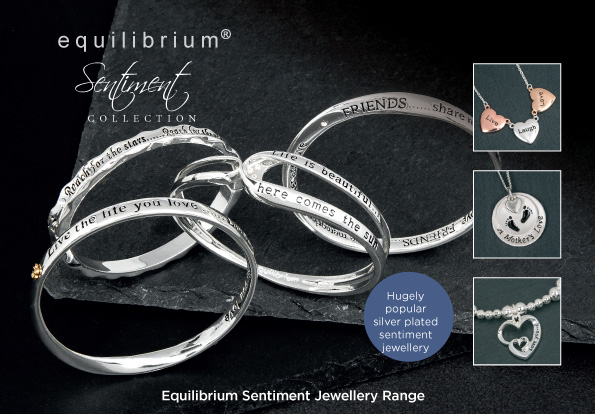 Many of Joe Davies' fashion jewellery collections are designed in "stories". Ranges consisting of necklaces, bracelets, bangles and ear-rings are themed by design and colour so they complement one another and create an eye catching display which can be mirrored by retailers. Most of the collections are plated in silver, platinum or rose gold to ensure the highest quality finish. Cubic zirconia is being used in more and more pieces, together with intricate finishes such as "pave" to ensure the collections always have the "wow factor" and are constantly moving in new directions and keeping up with new trends.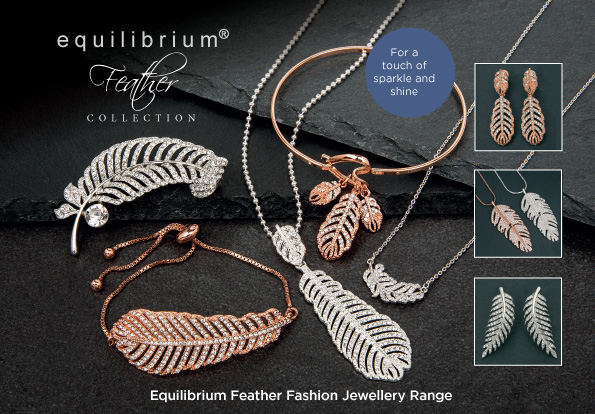 High quality & on-trend fashion accessories is what the Equilibrium brand is well known for. Each season Joe Davies introduce hundreds of new lines to compliment the jewellery range. The trend for playful styling will continue to be a hot trend, faux fur and in particular pompoms will remain a key element of this trend both as bag charms and accessories on scarves, hats, etc. New sizes and designs of the popular "Handybag" collection have been introduced including humorous captioned handybags, "Danger woman shopping" being just one of the designs. Fantastic quality and amazing value for money ensure these bags are a popular choice.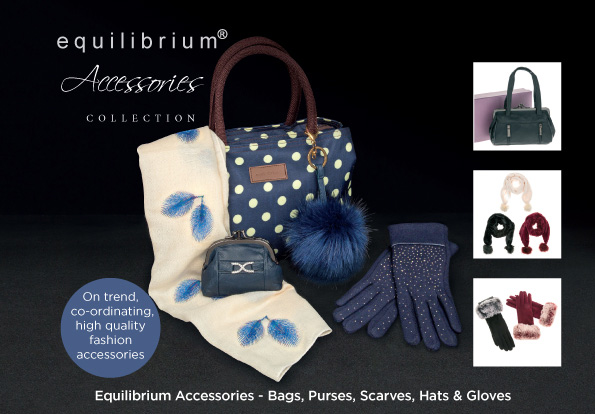 Men's gifts are a growing gift category for Joe Davies. One of the most successful developments has been the Equilibrium Collection for Men; with scarves, jewellery and cufflinks performing very strongly. Trending in particular are men's leather bracelets and necklaces, sales continue to grow year on year with an extraordinary increase at Christmas. The "Men's collection" is presented in attractive Equilibrium branded boxes to make effective displays and ensure each piece is an ideal gift.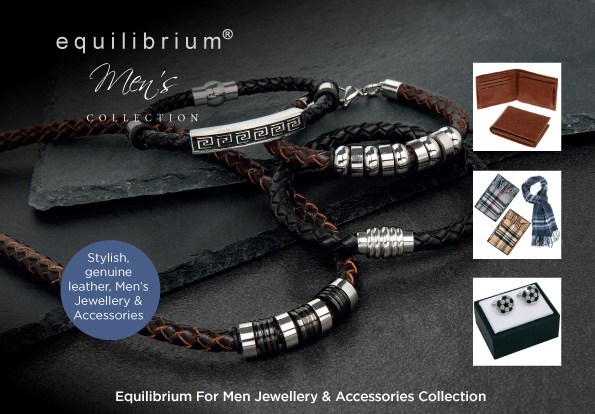 Useful links
Image gallery