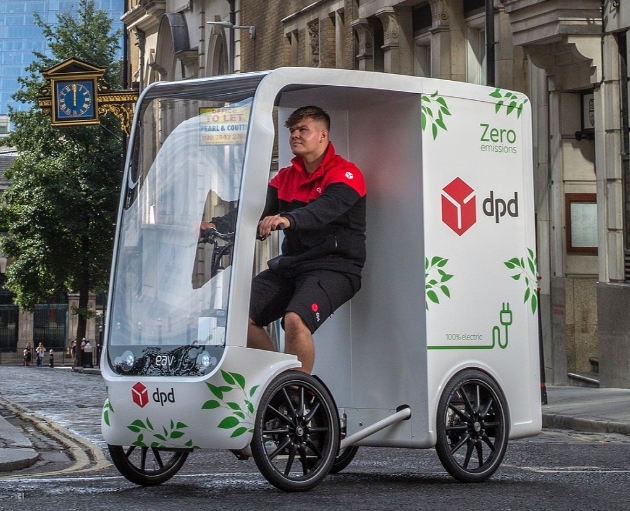 The UK's domestic parcel carrier DPD UK was named 'Gold winner' in the Service Industries category, with judges hailing the company's achievements in reducing CO2 emissions and its innovative all-electric micro depots in central London.

The awards, founded by The Green Organisation to recognise, reward and promote environmental best practice around the world, have been running since 1994 and attract entries from Governments, Ministries and regional authorities as well as companies and organisations right across the private and public sectors.

The award is recognition for DPD UK's efforts to become the most responsible city centre delivery company and the leader in electric vehicles (EVs) in the UK. In October last year, DPD opened the UK's first all-electric parcel depot in Westminster and plans to have a fleet of 500 electric vehicles by the end of 2020.

The firm has also partnered with Oxford-based manufacturer EAV to create a British built e-cargo bike, the P1. The bio-mechanical hybrid electric-assisted pedal bikes have a range of 60 miles and with a 120kg payload can cover 100 parcel stops in a day and then be recharged using a normal 13amp, 240v plug socket.

Last month, DPD UK issued a White Paper calling on vehicle manufacturers, energy providers, national and local Government to start working together to tackle the barriers holding back more widespread EV adoption and investment.

Dwain McDonald, DPD UK's CEO, commented; "We're absolutely delighted with this award. We've made a huge commitment as a company to investigate, develop and invest in our own sustainable future. But part of that project is also about leading by example and that means sharing what we've learned and showing that there are better ways to deliver parcels and run logistics.

"We can't do everything overnight and we can't do it all on our own. We've shared our frustrations as well as our successes, but we are passionate about this challenge and we know we can make a huge difference. Hopefully, we've shown through our all-electric micro depots that it isn't just about switching to EVs, it's about designing totally different business models and processes."