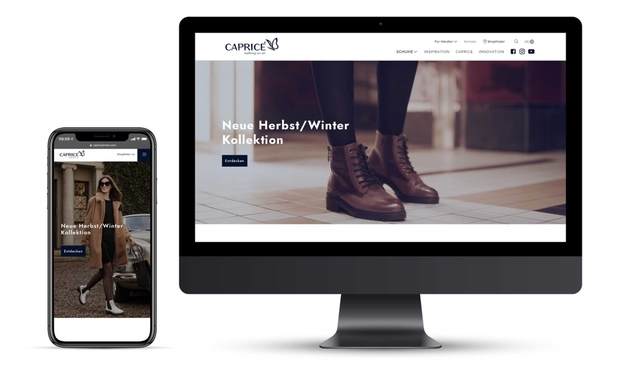 German shoe manufacturer Caprice has announced the launch of its new website, www.capriceshoes.com.

The website has been completely redesigned with a contemporary and user-friendly concept. A clear and structured navigation enables both end consumers and retail partners to find out about the product and innovation world of Caprice from the first click. The simple and elegant design focuses on the emotional appeal.

Generously staged images and wide areas convey modernity and an inspiring brand feeling that reflects the high-quality standards of the brand.

Another important development is the product presentation, which, thanks to optimized shoe images, stylish mood pictures and extended filter functions, gives the user an overview of the varied collection. The area of innovation, which is firmly anchored in the company's corporate culture, is also presented in detail. In addition, the website offers a new B2B section for retail partners with all relevant information and contact options.

The website is now available in English, French, Polish and Russian.

Jürgen Cölsch, managing director, says, "The relaunch of our website is a very important milestone in the way CAPRICE is presented and perceived on the international market. With an inspiring, fresh and modern online presence, we want to continue to create a positive brand experience for all web visitors. The quality features of our brand our perfectly presented."