A Sheffield-based steel and titanium jewellery brand is celebrating its first year in business with the launch of its rebrand. Formerly Sheffield Steel Rings, Flinn & Steel marks a new era of growth for the business, as it continues to establish itself as a leading steel and titanium wedding ring brand.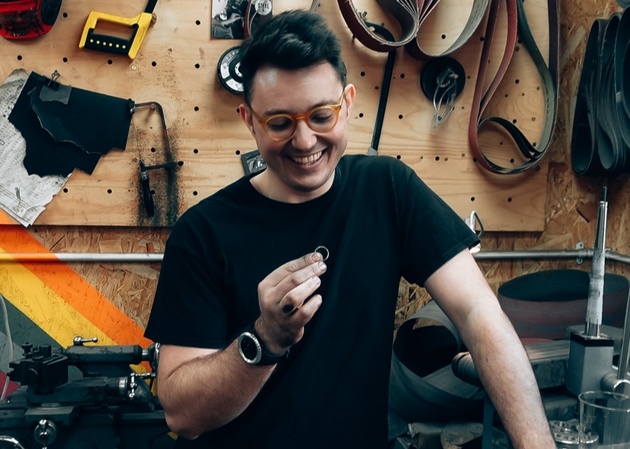 Flinn & Steel began in March 2020 as Sheffield Steel Rings. Founded by husband and wife duo, Jessica and Ollie Allen, from their home in Hollow Meadows, it was a natural progression from Jessica's existing jewellery brand, Jessica Flinn, which specialises in unique engagement and wedding rings.

Ollie was already making steel wedding rings for Jessica's existing jewellery business on a freelance basis, which were becoming increasingly popular. Predicting an ecommerce boom, they swiftly developed a collection and a brand, launching it just one month later in April 2020. Since its launch, Flinn & Steel has exceeded all expectations.

Within months the brand demonstrated a strong turnover, facilitating the growth of the team from two to six with the appointment of an Operations Manager, Laser Engraver and Marketing Team in its first six months.

Rebranding to Flinn & Steel is an opportunity to appeal to a wider, national audience with high-strength jewellery pieces that are inspired by, named after and crafted in Sheffield. It also compliments the brand's growing product range, which now includes a range of slimmer pieces, titanium designs, Damascus steel rings and stainless steel cufflinks.

Jessica Flinn-Allen, co-founder and managing director says, "I'm thrilled to be taking Sheffield Steel Rings to the next level with our exciting rebrand to Flinn & Steel. We wanted the new name to represent the meeting of our two worlds, the "Flinn" from my jewellery background and the "Steel" representing Ollie and the crazy journey we have been on whilst setting up the business in the midst of a global pandemic whilst homeschooling our kids.
"I'm so proud of our little business and so grateful to all the lovely clients who have bought from us over the last year! We honestly can't wait to see where the business goes in the next year and I'm so excited to see it keep evolving."