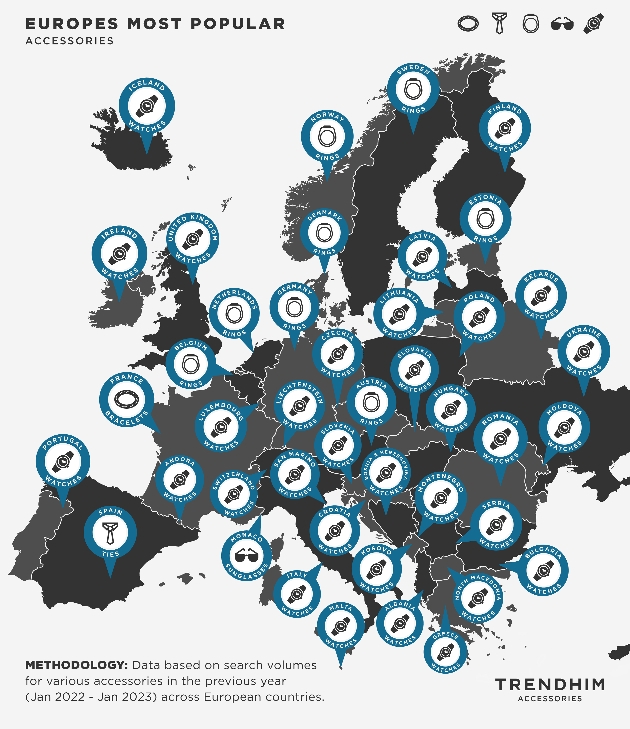 International men's accessory brand, Trendhim, has analysed Google search data to illustrate what the current accessory market looks like across Europe.


Looking at total searches in the last year, the analysis found the top-most-searched accessory in the UK were watches with 3,183,000 searches. This was followed by rings and sunglasses. This did differ in contrast to the whole of Europe where rings are the most searched accessory across all countries in the dataset - generating 7.7 million searches in the last year. The results showed the differing accessory preferences across the continent as France favoured bracelets at 728,000 searches whilst Spain generated 333,500 searches for ties in the last year.

Style expert and Creative Lead at Trendhim, Malte Köhn, commented, "It's no surprise that watches have proven to be the most popular accessory in the UK. Quintessentially British, the timepiece really is timeless when it comes to keeping up with fashion trends as they come and go; whether it's everyday wear or formal attire a watch can make or break the full look and add another layer of luxury.

"Rings have also signified power and authority throughout history, so the widespread popularity across the European landscape is also no shock. A favourite addition to exciting outfits from influential dressers like Harry Styles and Timothee Chalamet, on current red carpets, rings are continuing bold accessories that offer an insight into the personality behind the suit."