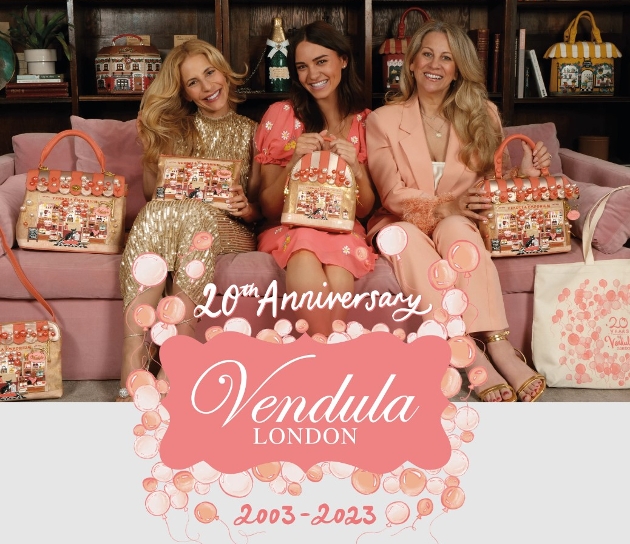 2023 marks the 20th anniversary of multi-award winning vegan handbag brand Vendula London and, celebrating in true Vendula style, the brand has launched a new collection of stunning vegan handbags and accessories that celebrates its journey and impressive back catalogue of designs.

A little love letter to the world of Vendula, the team are excited to introduce: The Vendula Emporium. Encompassing all of its most popular shapes for the range, from their classic Grace bag to the Bella crossbody bag, buyers will be in awe of the colourful artwork, reflective of its much-missed Covent Garden shop. Think: pink and white wallpaper, timeless décor and accessories in abundance.

Visit vendulalondon.com/uk/emporium | vendulalondon.com/wholesale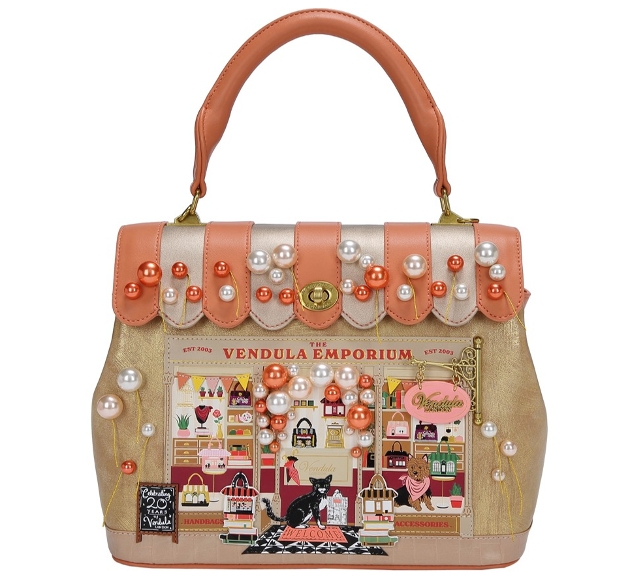 The Vendula Emporium Grace Bag, £180
This vegan leather bag can be carried like a handbag or over the shoulder thanks to the handle and detachable strap. It comes with multiple pockets so your essentials will not only nicely fit in the main compartment, but also be kept organised (have you noticed the exclusive lining?). Moreover, it is adorned with the most festive artwork: party balloons, bunting and a colourful display of iconic bags.
*This bag comes wrapped in a Vendula Emporium Canvas Tote Bag instead of our classic pink dust bag.
Dimensions: 24.5cm (H) x 30cm (W) x 14cm (D)
Printed and embossed vegan leather, hand-stitched details in vegan leather and cotton, brass closing clasp and stud feet, comfortable handle, fully lined with exclusive cotton lining, detachable and adjustable vegan leather shoulder strap
1 main compartment with zip closure
1 inside zipped pocket
2 inside open pockets
1 external back zipped pocket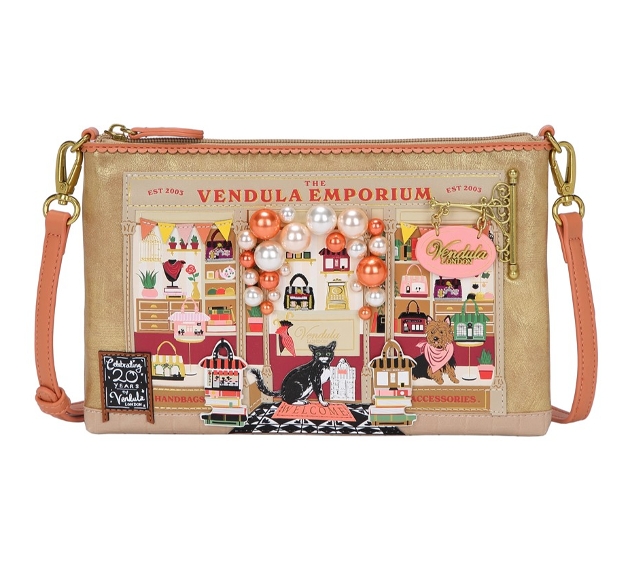 The Vendula Emporium Pouch Bag, £70
This vegan leather bag is ideal for everyday use because it has plenty of space for your essentials, and pockets for any extras. It can be worn as a crossbody bag, over the shoulder, used as a clutch or as a makeup bag by clipping the strap on or off. It sports an exclusive anniversary lining and truly unique artwork with printed and embossed colourful details at the front and back.
*This bag comes wrapped in a Vendula Emporium Canvas Tote Bag instead of our classic pink dust bag.
Dimensions: 16.5cm (H) x 26cm (W) x 1.5cm (D)
Printed and embossed vegan leather, hand-stitched details in vegan leather and cotton, detachable and adjustable vegan leather shoulder strap, fully lined with exclusive cotton lining
1 main compartment with zip closure
1 inside open pocket
1 external zipped pocket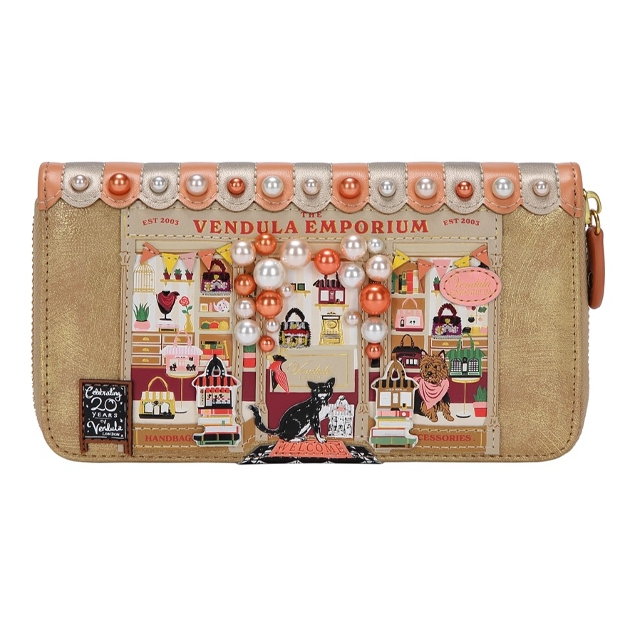 The Vendula Emporium Large Ziparound Wallet, £45
Made of vegan leather and looks incredible with colourful details and a blend of printed and embossed elements. This golden wallet can be used all year round and it will fit in most bags. And with plenty of space for your cards, wallets and notes, as well as a safe zip closing, it is just what you need.
Dimensions: 10cm (H) x 19.5cm (W) x 2.5cm (D)
Printed and embossed vegan leather, hand-stitched details in vegan leather and cotton, secure zip around fastening
1 inside zipped coin pocket
8 card slots
2 sections for notes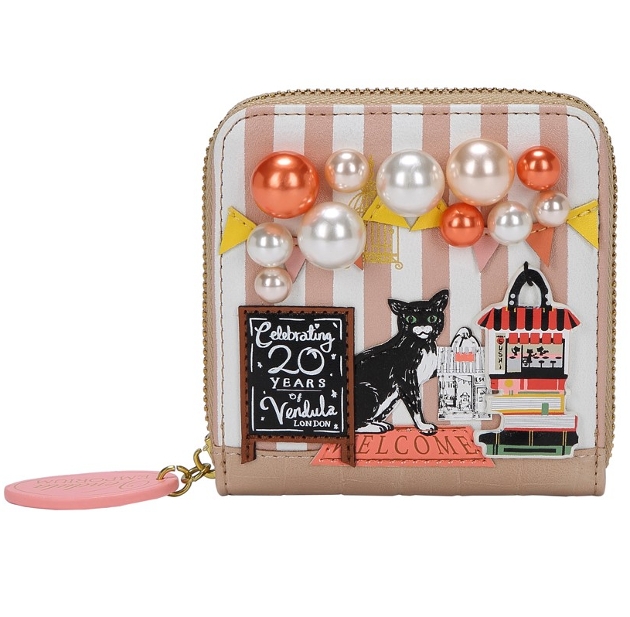 The Vendula Emporium Square Wallet, £35
Made of vegan leather and adorned with the cutest artwork to celebrate 20 years of Vendula - look at that gorgeous cat at the back! It comes with an internal pocket for coins, a few card slots and enough space for notes and receipts.
Dimensions: 10.5cm (H) x 10.5cm (W) x 3.5cm (D)
Printed and embossed vegan leather, secure zip around fastening
1 compartment for coins
6 slots for cards
1 section for notes

Vendula London has grown to be one of fashions funkiest brands with one guiding philosophy - to make others ask, 'where did you get that bag?!'. Its ever-growing list of captivated fans (Vendulettes) are across the UK, Europe, Asia Pacific and North America.

The brand is quirky and ethical, famous for shop-front and animal-inspired designs; although working with the legendary rock band Queen for the Queen X Vendula collection is also another firm favourite with fans and celebrities too.

CEO Raymond Lam FCCA is a former accountant in the fashion industry and had an inspired moment when looking through fashion magazines and thought, 'there must be a kinder way handbags do not need to be made from exotic animal skins,' and he hasn't looked back since!