Joe Davies Ltd
149 Broadstone Road, Reddish, Stockport SK5 7GA
Telephone: 0161 975 6300
Fax: 0161 975 6301
Email: sales@joedavies.co.uk
Web: www.joedavies.co.uk
Company Profile:
Giftware Importers, Distributors and Exporters

With over 10,000 sensibly priced products from Shudehill Giftware, Equilibrium Jewellery & Fashion Accessories and The Leonardo Collections. We launch over 5000 new lines every year, all available on our famous 'Little & Often' ordering system. You and your customers will be delighted with our selection and prices.

One of our proudest achievements is in being 16 times winners of the Greats Award for Service to the Independent retailer.
Contact Name: David Cree, Elaine Bashforth
Product Categories:
Bag Charms, General Accessories, Handbags, Hats, Jewellery, Scarves and Wraps
---
Product Category: Bag Charms
Product Name: Equilibrium Razzle Dazzle Keyring Bag Charms
Description: A dazzling range of sentiment keyring bag charms, all handpainted to the highest quality and featuring many on-trend designs such as unicorns, llamas and guardian angels. Complete with a state of the art rotating display stand.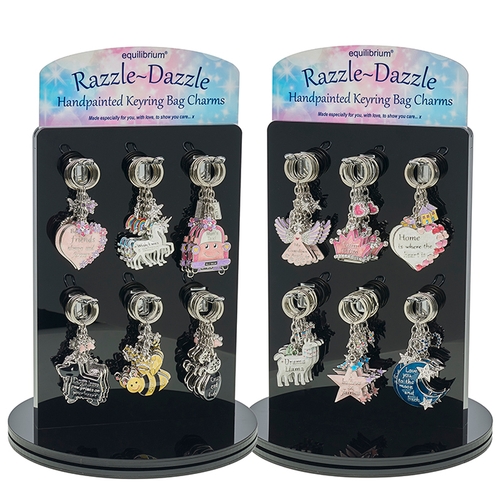 ---
Product Category: General Accessories
Product Name: RFID Blocker wallets
Description: Bright and colourful these wallets will keep your details safe.
---
Product Category: Handbags
Product Name: Equilibrium Fashion Bags
Description: Faux fur handbags are a big hit this season. Gorgeous luxurious fabrics which are super soft to touch.
---
Product Category: Hats
Product Name: Equilibrium Hats
Description: Fun, sparkly and practical these bobble hats are perfect for those cold winter months. Many have detachable bobbles for easy washing.
---
Product Category: Jewellery
Product Name: Equilibrium Jewellery
Description: Whether it's fashion or sentiment the Equilibrium Collection has something to offer for everyone. The range continues to go from strength to strength and this season we have introduced the stunning 925 sterling silver collection.
---
Product Category: Scarves and Wraps
Product Name: Equilibrium Luxury Scarves
Description: The Equilibrium scarf collection is the best it has ever been this season. There are lots of designs whether you like a chunky knit wrap or a light weight floaty scarf - we even have some in gorgeous gift boxes.
---