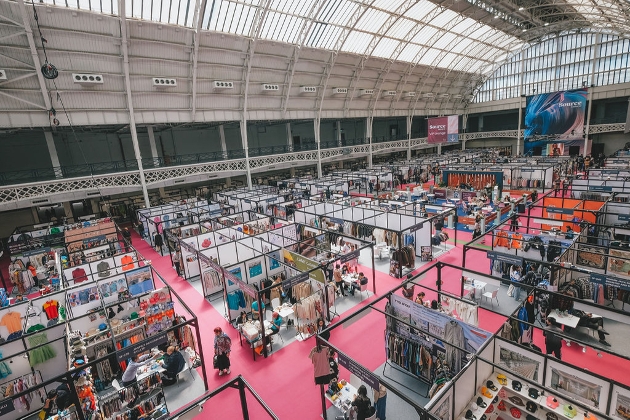 Europe's newest responsible sourcing show, Source Fashion, closed on a high following three highly productive days combining global networking opportunities, invaluable connections, inspirational social enterprise stories, and game-changing new business opportunities.

Suzanne Ellingham, Director of Sourcing, Source Fashion says, "Despite some reports that retailers are being cautious, the last three days at Source Fashion have proven the total opposite to be true. The show has welcomed so many buyers from leading retailers and brands, eager to discover new, responsible manufacturers and suppliers. The feedback shows that there is a palpable sense of positivity around the continuing growth in the fashion sector. The big question now, is making that growth sustainable and responsible, and that is why Source Fashion is so relevant to buyers, sourcing managers, product developers, technologists, and designers. I am genuinely excited to drive the show's development as we continue to build on our solid foundations and ethos. The future is looking good for fashion based on what we've experienced this week, and we're back for more on the 18th – 20th February 2024."

The three-day show, Source Fashion welcomed some of retail's biggest names. Buyers, sourcing managers, product developers, technologists, and designers from brands and retailers including John Lewis, Mountain Warehouse, Fila, Selfridges, H&M, Lipsy, Lyle & Scott, Joules, FILA, Perry Ellis, JoJo Maman Bebe, Monsoon, Fatface, Lulu Guinness, Next, Sainsburys, Vivienne Westwood, Stitch Fix, ASOS, Bella Freud, Burberry, Fat Face, Hackett, Harrods, NBrown, Monsoon and many more came to explore and source from Source Fashion's diverse mix of audited exhibitors. Highlights for many visitors included the high-quality cashmere from Mongolia, the beautiful handcrafted ethical accessories from Madagascar including Anaka's raffia bags, and the luxurious sustainable handcrafted pieces from the Philippines.

Jean-Pierre Aguis, Fashion Category Sourcing Manager at John Lewis commented on his visit to Source Fashion, saying, "The show has been really good, I've had some interesting conversations with manufacturers, and attended a few talks which were really insightful, this is the second time we have attended Source Fashion and it is a great fashion show. I had very interesting conversations with suppliers from Madagascar which is not an area we currently source from, but the products they brought are very impressive so I have taken away quite a few interesting contacts."

Vito D'Antoni, Product Developer and Production Manager at Lulu Guinness loved the convenience and offering, saying, "The show has been great, so much going on here... so many exhibitors and products to discover. To have everything in one place here in London, covering all the product categories from different territories is exactly what we want.'

Raymond Carney, Director of Procurement at Portwest says Source Fashion is "A niche show that will grow massively moving forwards.' For Yedra Bojang, Textile Designer at Yedra Bojang, the show is 'Just what I need, everything is in one place. I'm especially interested in Dongguan Tomorrow Fashion and will definitely be working with BRU (packaging designer) in the future.'

Sourcing in Africa was the focus for Tuesday's content session. During 'Starting your sourcing journey, what you need to know when sourcing in Africa', Hibret Lemma, CEO - Hawassa Industrial Park Investors Association explored the reality that retailers and businesses are seeking to actively de-risk their supply chains and manufacturing operations by working with new regions. Lemma outlined the viable alternatives that balance risk against cost and quality and gave visitors a unique insight into the benefits these bring, not only to business, but also to new partners. Visitors were also given top tips on how you build these relationships in the right way from day one to ensure success.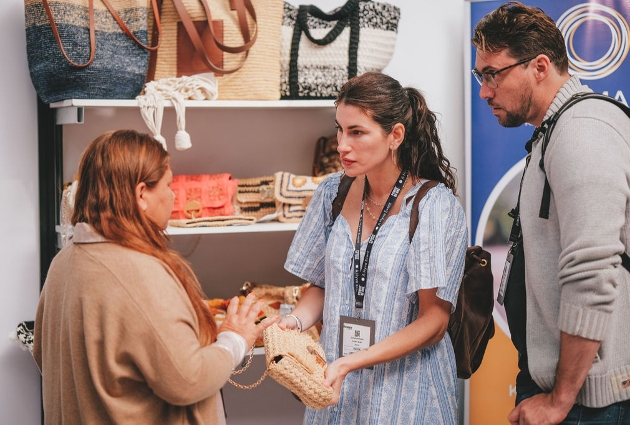 The view from exhibitors was extremely positive with success stories emanating from the show floor. The country pavilions, including the Philippines, were particularly keen to highlight the benefits of new international trade legislation opening up new opportunities.

Dawn Marie F. Cabigon, International Trade Fairs and Events Officer Fairs & More said, "This is the first time we have brought a Philippine pavilion to the UK and due to new legislation, UK businesses don't have to pay any import taxes on Filipino products. This is a game changer for the UK market, making our costs very competitive. Because of this, we have had a very good show from day 1! We networked with visitors and buyers and talked about the products we can offer. We had 8 companies exhibiting in our Pavilion, with everything from apparel, bags and hats made from natural materials from the Philippines, and other accessories. We've had inquiries from small boutique owners, stores looking to feature our accessories and even some inquiries from companies based in Greece! We are definitely coming back in February, and we want to bring even more companies from the Philippines!"

Narendra Bubna, Director, Only For U Designs Ltd added, "The prints we design are one-off bespoke to the brand. Source Fashion is an incredible show for me, I have come three times in a row now, and still find new customers who have never seen a product like mine, and they come back every year and keep on buying from me. I have met clients such as wholesalers and distributors, designers, companies just looking for textiles, boutiques, and more, and we cater to all of them. We want the UK and India to continue to grow together, and so I have already re-booked for February."

UK-based exhibitors also reported having a successful show enjoying the face-to-face conversations. Rahul Gokani, Director, Amplebox said, "We're based in the UK and specialise in bespoke streetwear, loungewear and athleisure. This is my third time exhibiting at Source Fashion now, and I come because I like being able to speak to people in person at this show, having a face-to-face conversation really allows you to build relationships and connections. Typically, we get really good customers through the door here and I've met a mix of visitors, from start-ups to bigger retailers and Ecomm brands and I've made great connections. I've done very well exhibiting at every show so far, so it was a no-brainer to come and exhibit again."

The next edition takes place on the 18th – 20th February 2024 at Olympia London. Visit www.source-fashion.com for more information.