Harrogate Fashion Week opened its doors to buyers queuing around the building to gain access to the first day of the biggest edition of Harrogate Fashion Week to date.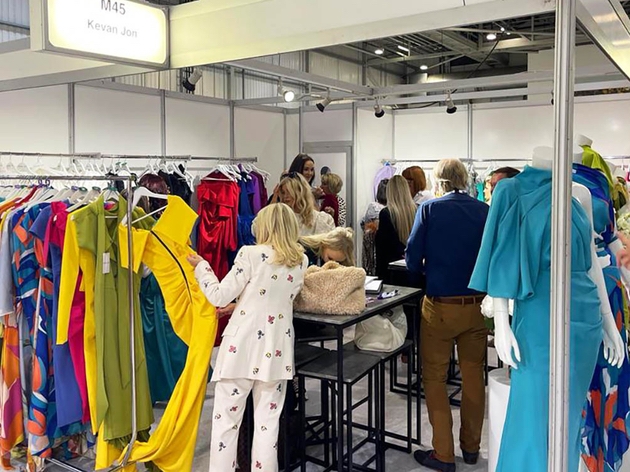 Buyers had the opportunity to browse the largest collection of womenswear, shoes and accessories under one roof, with over 100 brands more than last season.

Visitors also choose HFW as their main buying platform with the first day showing an increase in footfall of over 35 percent. The show welcomed 200 collections this season with regular exhibitors such as Alice Collins, Carol C Collections, Dolcezza, Kate & Pippa, Rino & Pelle, Ella Boo and Smith & Soul as well as welcoming over 50 new exhibitors showing for the first time including Alpe, Eb&ive, Ilse Jacobsen, the Godske Group, Traffic People, Onelife, Suzie Blue and many more.

Organisers Wendy Adams and Sarah Moody were thrilled and commented that they were overwhelmed with the support and great accolades received from exhibitors and buyers. Rachel Cole, Pure Boutique Huddersfield said: "Harrogate Fashion Week is getting better and better, it is friendly relaxed and offers an unpressured buying environment."

Ber Downes, Morgans, Southern Ireland: "I last visited Harrogate to buy fashion 35 years ago and it was fantastic to be back in such a super location. It's easy to travel to Harrogate from Dublin with the Leeds airport being so close. The show has a great mix of brands and all the exhibitors are really happy - the COVID times are behind us! It is a fantastic buying environment compared to Birmingham and London."

Anne Bennett, Moda Dea commented: " Very welcoming and friendly show, great brands, just gets better and better."

HFW exhibitors are equally as pleased with their first day of business. Frederika Brascugli, Ilse Jacobsen said: "It is our first time exhibiting, it has been great. I have opened four new accounts and taken orders from eight existing accounts and that's by lunchtime on the first day."

Joanna Edwards, showing Carla Ruiz and Arggido, said: "What a brilliant show, great to see old and new customers. Lots from Irelands and Scotland. I have found none of our customers are here for just one day, they are here to buy over a number of days. HFW is now a diary event for the fashion industry!"

Dates already announced for next season are 4th – 6th February, 2024.