Buba love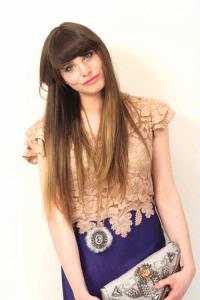 What was the aim of Buba London when it was first established?
Euan and I first crossed paths ten years ago, but only really met whilst travelling in Goa, and have been inseparable ever since. It was at that point, and in those surroundings, that the ethos and identity of Buba was born.

Our original ambition was to produce beautiful hand-made and finished accessories, incorporating traditional handicraft techniques such as whip stitch, Ari embroidery, (a method indigenous to Gujarat in India) crochet and macramé.

The originality of Buba London lies in the relationship between the artist and his materials, and then the creation of timeless pieces. The promotion of artistic tradition and handicrafts is central to the label's philosophy. Combining techniques in extraordinary ways, and applying them to unusual materials allows for a continuous flow of fresh ideas, and new, one-off designs.

Buba London's signature mark is the use of crochet and whip stitch. Beads and sequins often form the main ingredients in these one-of-a-kind pieces. Hand embroidery is the main form of embellishment, making the final product breathtakingly ornate. Semi-precious stones such as pearls, rose quartzes, opals, as well as gold and silver beads are part of the crochet tapestry, enriching these unique works further.

How were the initial products developed, and what was the response?
Initially, everything was hand-made by Euan himself, and then a small team of artisans in India worked on the designs. The first responses that we received from shop owners and those in the retail market was overwhelming - they were so positive about our work.

What challenges were overcome when the company was starting out?
Euan and I were about to have our first child when Buba launched in 2002. I was due to give birth the same day that London Fashion Week ended. This was a challenge in itself, as we didn?t think that our brand would take off as quickly as it did. I remember him calling to tell me to hurry up as Barney's and Neiman Marcus were fighting on the stand, as they both wanted to order. I turned up to help, asked which one was first, and they began squabbling again. I had to remind them that I was due any day, and could end up having the baby right there on the stand, so they should just get in line (which they did).

We took £300,000 of orders in three days which far exceeded our initial cash flow restrictions. Unfortunately, we then had to "pick-and-choose" and ask some shops to pay a 30 per cent deposit - we just didn't have the funds to produce the collection. We didn't have the infrastructure in place, but were determined to get orders to customers on time and in high-quality condition.

Another teething problem was with the production company that we had chosen. They did not produce anything in dark brown leather that year, as the manager of the factory decided to use the money forwarded for this to buy himself a new car. Understandably, this was the last time Buba London worked with this company and we went on to set up our own factory.

What sets Buba apart from its competitors?
This is a hard question to answer, as no one designs anything along the same lines as us. We have always used leather, embroidery and high-end materials; and made sure that our bags are not mass-produced. There is a bag for everyone, at any time in our collections. We're very different in the sense that our offerings aren't seasonal.

How important is the location and history of the company to its success?
It's of the utmost importance to Buba London. If we weren't able to work with such amazing artisans we would not have a company. No one else can do what they do, as they use traditional looms to make the exquisite embroidery.

How has the product offering changed over the years and how would you describe your current collection?
We first started using the traditional hand embroidery techniques with simple thread embellishments, which created a look akin to Chinese silk shawls. Now we use more modern materials, such as crystal and beads, creating layers of stones and texture. The Buba London collections have moved from being bohemian and fun, to being more stylish and sophisticated.

How often does Buba launch new lines?
New lines are launched twice a year, and debuted at London Fashion Week.

What are the current best-selling designs and tell us about the recent campaigns?
The Fan Travel Bag is one of our favourite bags in the collection at the moment, and is also the best-seller in the range right now.

We work a lot with up-and-coming photographers and stylists from a variety of backgrounds, and we are always thrilled to see how the Buba vision can be incorporated into any scenario.

Which trade shows do you attend and which one works best for Buba?
London Fashion Week and Premiere Classe, Paris. We find Premiere Class to be a great success every time, due to the amount of international buyers attending.

When was the website launched and how does it support the business?
Our website was launched at the end of March this year, and functions as an e-commerce site that is adaptable to both retail and wholesale clients. This allows overseas customers to shop and place orders at leisure.

What have been the key milestones in the business?
The first creations are always exciting. In 2002, the New Gen award opened doors that led to what has been an incredible nine year career. The website has been a key addition to the brand and each season is a milestone too.

How do you view the current market and what trends, both in product and in business, do you see emerging over the coming months?
We feel that the retailer wants something a bit different now, and we tap into that, as our offerings have always been somewhat bespoke. I'm not sure that the retailers follow specific anymore, as they are under immense pressure these days, especially with the internet now being so widely used. They want to offer their customers something truly original. We feel it's important to bring something to market which is impossible to replicate as it's so easy for high street fashion stores to make similar products with lower price tags.

Buba bags has managed to stand the test of time because of a loyal following, and by incorporating our best details throughout the seasons. The consumer wants beautiful products that aren't mass-produced, and the retailer wants to ensure that the purchase made by their customer is deemed a special one.

What are the future plans for Buba?

The new spring/summer 2012 line comes out soon. The new bag is fit for the beach, shopping or eveningwear - we've created bags that can go with you everywhere. Shrunken clutches, canvas ombré dyed pieces, and wicker woven natural baskets. All designs will have a futuristic twist, embellished with three-dimensional beading, leather, Swarovski crystals and an eclectic colour palette of hot pinks, peaches, and our signature whites and creams. We will also be introducing a few sandals to the range.

In the future, I would like to focus on more homeware designing, and Euan wants to focus on creating more unusual fabric prints.


Date Posted: