Hi ho silver lining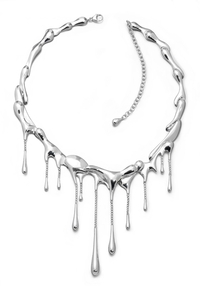 Tell me a bit about how the LucyQ label was started.

After studying jewellery design at Sheffield Hallam University, I worked with a silversmith to gain more hands-on experience of the trade. I then established LucyQ during my first pregnancy in 2004, with the help of The Princes Trust. I was able to turn a hobby into a business which I could fit around my family. The organisation offered me a lot of help and guidance, including teaching me about the business aspect of starting out on your own; I also won an award for Best Start-Up Business from the Chester District Grants Panel, which was a great confidence builder as I developed my collections.


What was the aim of LucyQ when it was first established?

My ultimate aim was to design jewellery that would stand out from the crowd. At university I was taught to design from the heart; not to follow fashion but to lead it. I wanted LucyQ to be just that my opportunity to create mini masterpieces to be worn with pride.


How were the initial products developed, and what was the response?

My first collection for LucyQ was Jigsaw. I took that, along with a few other designs, to The British Craft Trade Fair in 2005. The range got an amazing response, and from then on LucyQ was officially selling in shops up and down the country.


What challenges were overcome when the company was starting out?

Wow, there were so many obstacles to overcome, I'm not sure where to start! I suppose the hardest part was trying to work around a baby, but as she became older I was able to find more childcare. Then I had to work on my branding – I had to really think about what image I wanted to portray and who my ideal customer would be.
I did make a few mistakes along the way, but these have taught me valuable lessons and I wouldn't be where I am now if it wasn't for them.


What sets LucyQ apart from its competitors?

I've been told that LucyQ jewellery pieces are "a breath of fresh air." They stand out and stop people in their tracks. I'm always working tirelessly to design something that's original and innovative, so it's great to hear that my work is making an impact on people. Quality's also very important to me. Our solid sterling silver designs are made to the highest standard and come with a full life-time guarantee.


How important is the location and history of the company to its success?

It can be somewhat isolating being based in the north-west when London is central to the industry. But I would never move; Chester is a very inspiring city and it's my hometown.
My company's relatively new, but I've been working from this base for a long time for my own reasons. Having small children meant having to build the business slowly, which in hindsight has been the best thing for LucyQ in the long run.


How has the product offering changed over the years and how would you describe your current collection?

Due to the recession, I decided to offer some more accessible pieces within the collections. This has been quite challenging for me, as I love to use a lot of silver and maintain the highest quality possible. However, I now feel that all of my collections have a good variety of price points that will appeal to all customers and age ranges.
LucyQ's current range, the Joining Jigsaw collection, is fun, organic and innovative. Building on from my original Jigsaw collection, the new pieces are even more cleverly designed and eye-catching.


How often does LucyQ launch new lines?

I launch two new collections every year, as well as introducing new designs within the current popular collections based on retail and consumer demand.


What are the current best-selling designs? Tell us about the recent campaign

Drips has been our best-selling collection and certainly my most iconic. It's won lots of awards, including prizes from the BJA, IJL and Retail Jeweller, and really has set me apart within the jewellery industry. I love working with water-like effects in my work and it's definitely a recurring theme for me.


Which trade shows do you attend and which one works best for LucyQ?

My favourite trade show has to be IJL. I've opened my biggest accounts at that exhibition, and I've also been recognised as an IJL Editor's Choice Winner for my Splat bangle, as well as having pieces featured on the catwalk.

I'm quite new to the Jewellery Show at Spring Fair, but after only two visits it's proving to be an amazing success for LucyQ, and I've obtained many new stockists there. I recently returned from my first trip to The Jewellery Show London at Somerset House, where I got to see my statement Drip necklace launch the catwalk. I'll definitely be returning again next year.


When was the website launched and how does it support the business?

The newest website was launched about 12 months ago. It's an absolutely key marketing tool and catalogue for the brand, as trade customers are able to sign into their own specific area and order online.


What have been the key milestones for LucyQ as a business?

In trade terms, it has to be developing new relationships with key retailers – I truly value my partnerships with them and their continuing support. Winning awards has also been a big boost over the past couple of years: most recent highlights have been winning the BJA award at Spring Fair in February this year, and being a finalist for the UK Jewellery Awards 2013.


How do you view the current market and what trends, both in product and in business, do you see emerging over the coming months?

Jewellery trends, by nature, come and go but if the design is strong then it becomes timeless. In business, I feel that there's an increase in the appreciation of British design and customers are happy to invest in something that is original, has enduring appeal and is of excellent quality.


What are the future plans for LucyQ?

In the short-term, I'll be presenting two brand new collections at IJL you'll have to come along to see what fresh ideas I've been working on! I'll also be working on higher-end luxury pieces using precious gems next year. Thinking of the future in a more long-term sense, we intend to exhibit overseas in 2015.
Date Posted: 22 October 2013