A whole bag of tricks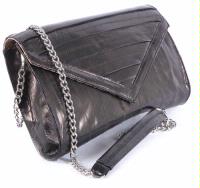 How was Makki started, what was the aim?
Makki was established in 2003, and it was our aim to create a luxury handbag brand using the finest quality by-product skins. As we want the brand to epitomise class, luxury and intelligent design, we made great efforts to ensure that we offer on-trend classics with an heirloom level of quality.

I lived and worked in South Korea prior to the launch of the brand. This meant that I had an in-depth knowledge of the culture, business ethics and design process; which in turn allowed us to work very closely with our factory. It also means that we can keep up with the relentless pace set by the fashion industry. From a small seed, Makki has now grown into an international label, and is now known as the UK's leading eel skin handbag specialist.

How were the initial products developed and what was the response?
Makki's collections have evolved so much since the early days. The brand was well received early on, because it offered something special that many buyers were looking for but a young brand launching into an ocean of well-established brands was hard. We have a fantastic relationship with our customers, and I am proud to still be working with buyers who bought from us in the early days.

What challenges were overcome when the company was starting out?
I think that the first three years were the hardest for us. There are many sharks in the fashion industry, and as a new company, unfortunately you are prey to many of them. PR companies who promise so much, and deliver nothing; agents who aren't promoting your brand in the way that you want; and of course, competition, particularly other companies who witness your success and attempt to replicate your business model.

I would say the biggest challenge now is keeping up with growth without losing the vision. I am someone who wants to be involved in every part of the business, but this is not always possible - either physically or mentally. We are growing at a great rate, and I'm lucky to have a team that share in my vision.

What sets Makki apart from its competitors?
Makki knows its customer; knows its suppliers; and crucially, knows the market direction for the forthcoming season. As a team, we travel far and wide; ensuring that we are up to date with what's happening in fashion globally. Through our talented in-house British and Italian designers, we translate our findings into a look that is distinctly Makki. This look has created a loyalty amongst customers, and there is always a buzz in the run-up to the next season.

A high-level of customer service is a core part of the brand's ethos. Whether it's image requests, one-piece orders for a specific customer, or friendly advice about designs & colours; Makki offers a service which sets it apart from its competitors.

We now also have an in-house translator, who is able to communicate fluently with customers in a number of languages including Italian, French, Dutch and German. This has helped enormously to accommodate our ever-expanding international appeal.

Most importantly, we design solely for Makki, and do not design and sell under the names of high street stores or under pseudonyms on internet auction sites. Our loyalty is with our trade customer and it is to this end that the brand is entirely focussed.

How important is the history of the company to its success?
My history of living overseas, and the close relationship I have with our suppliers is very much a part of the brand's success. Without that history, progression would be much slower and harder.

How has the product offering changed over the years, and how would you describe your current collection?
Makki is constantly evolving and introducing new lines for our customers. We haven't become complacent about the products despite our success. We are always researching coming trends to ensure we are able to offer our customers something new.

Our eel skin ranges have been so successful, we are now combining this wonderful skin with other by-product skins, which has opened up a whole new realm of design opportunities. The Italian Pony Hair line was a quick reaction to our visit to the Milan fashion shows. The luxury hair texture with the softness of eel skin is set to be a winning combination.

How often does Makki launch new lines?
Each season new lines are designed, to ensure that there are always fresh offerings for trade. We also offer new colour palettes each season. We frequently talk to our customers to ensure we are delivering the styles and colour combinations that work best for them, whilst tirelessly researching new trends both at home and overseas to predict future tastes.

What are the current best-selling designs and recent campaigns?
We had a fantastic response to our autumn/winter 2010 Butterfly collection, both from customers and press. The sell-through on these designs has been great, and we have been introducing new colour combinations in these pieces since the launch. In hard financial times, it is easy to stick to a tried and tested formula or the "safe" designs. It was a bold move to launch such a striking collection, but in my heart I knew it would be received well from the moment I began designing it.

The Art Deco collection (particularly the day bag), was a huge hit also when launched at Pure London spring/summer 2011, in terms of both design and price point.

Our next initiative, the Glamour 54 campaign, is the introduction of other skins with eel skin. Eel skin has been a huge success for us; and as well as continually working on new designs and colour ways, we are now launching a range of combined skins..Tote bags and clutches combine pony hair and eel skin leather, to offer the ultimate in luxury.

What trade shows do you attend, and which one works best for Makki?
In the early days, we exhibited at every trade show in the UK. Time, experience and some valued feedback from loyal customers means that we now show once a season in London at Pure, and also at various international shows, including Premiere Classe in Paris and Mipel in Milan. We also have a showroom in the UK, and a team who can visit customers across the country, if they aren't able see us at the shows.

Part of Makki's growth strategy was to launch in the international market. We have an in-house Italian designer, and our interpreter makes the international market much easier to navigate. We are a well-known brand in the UK, so being at international shows is a little like the early days, although it was a rewarding moment when we were told by a showroom in New York - which would become our showroom - that we are a known brand in the USA.

When was the website launched, and how does it support the business?
The website was launched a year after Makki was established. Like the brand, it is in a constant state of flux, and has been overhauled on several occasions to ensure that it reflects the changes within the company. We use the website to promote the brand's image, and to support sales. Trade customers are also able to request trade log ins, and place their orders online throughout the year.

What have been the key milestones for the business?
There have been too many to mention in the past eight years. In the early days, just to hear: "Oh, it's Makki" at a trade show was a great feeling and proof that we were doing something right! Now, we have several high-profile Makki customers, including Gwyneth Paltrow, Princess Anne and perhaps the most famous woman in the world right now, The Duchess of Cambridge.

Makki's close collaboration with famous stylist Andy Blake has ensured that our latest collection will be featured in films and we are also due to be featured on the BBC this year.

We have recently taken on a showroom on 5th Avenue in New York, and are also building our customer base in Tokyo. Every season brings a new milestone, and that's one of the reasons I love what I do.

Where do you draw inspiration from when designing?
Makki is typically inspired by past decades and music. We have progressed through the Electric, Art Deco, and New Wave collections; this season heralds the new Glamour 54 collection. Shapes and styles from different eras - whether it be architecture, fashion or the sounds of the times - all contribute to the changing face of Makki.

How do you view the current market and what trends, both in product and business, do you see emerging over the coming months?
The current market is in a period of drastic change. I believe that difficult times refine businesses and products. Companies now strive to provide better services and their products are better quality. The companies that are unable to keep up with these changes are lost along the way.

The trend for fast fashion has lasted too long, and the industry has come a long way; realising the need for materials that are both beautiful and eco-friendly. I think we are heading towards a time of stylish chic and ladylike glamour with modern overtones. However, I still believe we still have a long way to go.

What are the future plans for Makki?
Makki has some new designs launching this season - new skins, new styles, new colours. We work very hard on continually evolving Makki, so every season brings new and exciting developments. Our launch into Europe has been a big success, so we are hoping to expand on this. Also our inclusion in film and programmes on the BBC will put the brand in the public eye even more, hopefully increasing the company's sales.

I love developing Makki, and everyday I am thankful that I have made it a reality - I hope that this passion shines through in the designs.
Date Posted: